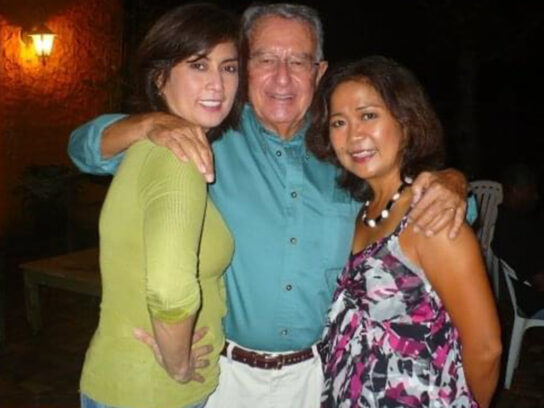 Bettina Obias, a North Bethesda resident, hopes for a miracle.
On June 24, she flew to Florida to visit her family. She was looking forward to spending time with her Aunt Maria and Uncle Claudio.  They lived on the 10th floor of the Surfside Condo.
When Obias arrived, she learned about the collapse of the building. More than a week later, her aunt and uncle are among the 145 people still missing in the rubble.
Before retiring Maria and Claudio Bonnefoy lived in Potomac and had successful careers in Washington D.C. Maria Bonnefoy worked as the Senior Budget Officer at IMF. Claudio Bonnefoy was a legal counsel for the International Telecommunications Satellite Organization.
On Thursday, like many other families still waiting to learn the fate of their loved one, Obias found solace in meeting with President Biden and the First Lady. Obias said she spoke to the President for two minutes and told him that her aunt campaigned for him.
She said Biden asked her what she'd like to see him to do to help the situation. "I said, '[Mr.] President, it's a divine providence that you are the president because now one factor that affected this is climate change. You have to be serious about climate change.' And he said, 'Oh my God, thank you for mentioning that because I'm trying to push the issue of climate change.'"
Officials have been providing affected families with daily updates on the search efforts. "For me I'm just keeping my hope that they're doing their best and I think they are doing their best," Obias said.
Obias believes if her aunt and uncle are found, it will only be their bodies. For some, visiting the site of the wreckage is traumatizing, but Obias has visited on several occasions to feel closer to her aunt.
"I wish the last time I saw her last month, I hugged her harder, that I had spent more time with her because she was just the most beautiful human being."