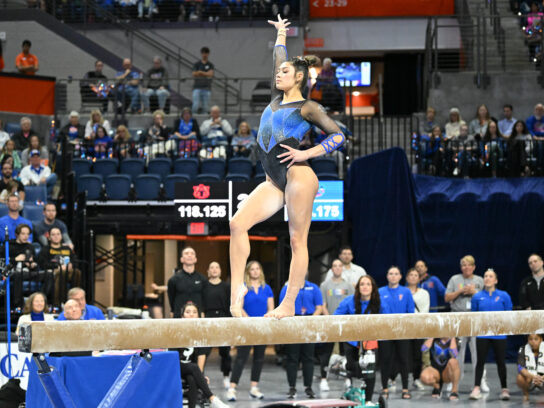 University of Florida gymnast and Northwest High alum Kayla DiCello won SEC (Southeastern Conference) Specialist Gymnast of the Week honors this week.
DiCello turned in marks of 9.9 or better for each event she competed Friday in a meet against Auburn, equaling or raising her collegiate bests in each apparatus. This is her second consecutive week collecting league honors as she claimed the first SEC Freshman of the Week honor.
DiCello, who will turn 19 on Jan. 25, is from Boyds, trained at Hill's Gymnastics in Gaithersburg and was named an alternate for the U.S. Gymnastics team for the 2020 Tokyo Olympics which took place in 2021 due to the pandemic. She won a bronze medal in the all-around at the 2021 World championships. She was 2019 Junior World vault champion and the 2019 U.S. Junior national all-around champ.
(Photo courtesy University of Florida)