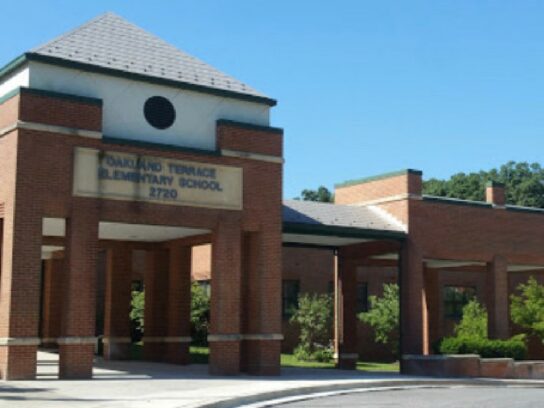 Oakland Terrace Elementary School was awarded the Green Ribbon Award on behalf of the U.S. Department of Education.
The U.S. Department of Education announced the Green Ribbon Schools, based on their commitment to safe, healthy and sustainable learning environments. 39 schools, 11 districts and five colleges and universities across the nation were awarded with the Green Ribbon Award.
"During this unprecedented time, it's a pleasure to celebrate these bright spots of creativity and to applaud the teachers and local education leaders who have worked to create healthy, sustainable, and innovative learning environments for their students," said U.S. Secretary of Education Betsy DeVos.
Oakland Terrace Elementary School, located in Silver Spring, was first certified as a Maryland Green School in 2015 and re-certified in 2019. The school promotes environmental literacy both inside and outside the classroom. It has an outdoor classroom, a courtyard that accounts for one-fourth of the entire green space of the property and various gardens, including two rain gardens installed by the Montgomery County Department of the Environment's Rainscapes for Schools Program. The rain gardens help filter run-off water from the hard surfaces of the playground area. Students from all grade levels participate in field trips to the nature center and the local creek and woods surrounding the school.
"I am very proud of the environmentally friendly and socially conscious work being done by the students, staff and families at Oakland Terrace," said Superintendent Jack Smith in a press release. "This national recognition is a reflection of our efforts to foster healthy and productive learning spaces for all students."
Montgomery County Councilmember Craig Rice offered his congratulations to Oakland Terrace Elementary School in a tweet.
.@RicePolitics Congratulations Oakland Terrace Elementary School @Cdawkpull @MCPS Green Ribbon 2020 Maryland WINNERS! #EDGREENRIBBON @usedgov @MoCo @SilverSpringMD @IMPACTSS #Maryland @BethesdaBeat #craigrice https://t.co/6FDCWwLqVB

— Craig Rice (@RicePolitics) April 22, 2020