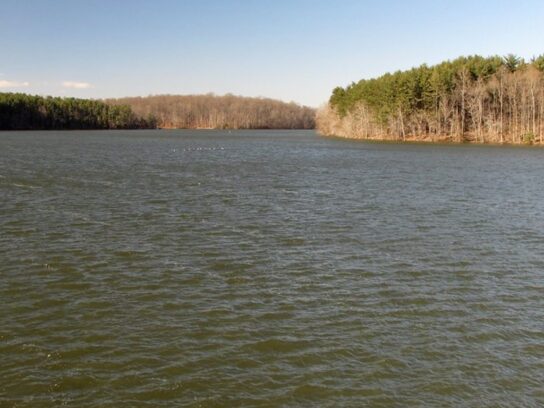 Officials warn residents to avoid contact with the water of the Triadelphia Reservoir near Olney due to blue-green algae contamination.
Touching Montgomery and Howard counties, the Triadelphia Reservoir along the Patuxent River is a popular recreational destination for activities such as fishing, boating, and hiking. The reservoir also serves as a drinking water source for Washington Suburban Sanitary Commission (WSSC) Water.
Blue-green algae are not actually algae at all, but bacteria.  exposure to high levels of the algae, also known as cyanobacteria ,can lead to diarrhea, nausea or vomiting, skin, eye, and throat irritation, or breathing difficulties.
Individuals who experience these symptoms or a tingling sensation in their extremities after being exposed should contact their doctor.
Although adults can still be affected, children and pets are at the highest level of risk. Blue-green algae is extremely toxic to pets such as dogs, and veterinary care should be sought immediately following exposure.
WSSC Water stated its provided drinking water has not been affected by the algal bloom, but will be closely monitoring the water quality conditions at its Patuxent River Filtration Plant as a measure of caution.
Residents should avoid all contact with the affected water until officials note otherwise. If an individual comes into contact with the contaminated water, they should immediately rinse off with clean water. Residents are also asked to avoid consuming fish liver or other digestive fish organs from the reservoir. Fish caught from the Triadelphia Reservoir can still be filleted and eaten after a thorough cleaning.
Signage will be posted along the reservoir's recreational areas to keep visitors informed. Any questions or concerns can be addressed by contacting the Chesapeake Bay Safety and Environmental Hotline at 877-224-7229, or by visiting the FAQ page online.