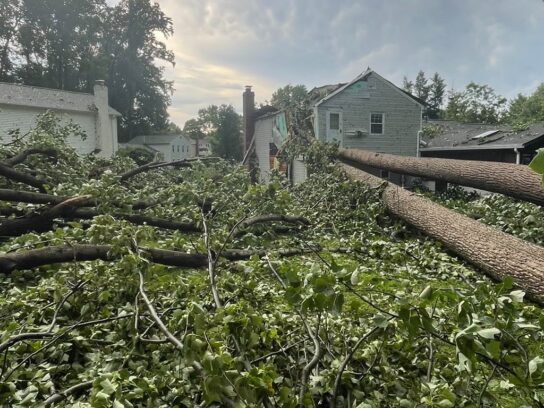 Olney residents are still recovering days after the two-hour storm that hit Maryland on Tuesday.
Most powerful during the hours of 5-7 p.m., the storm largely affected neighborhoods north and east of Washington, D.C. During the storm, Montgomery County Fire and Rescue spokesperson Pete Piringer said county services were operating in "Condition Red," meaning they would only respond if the call was for an emergency. Piringer said MCFRS received over 100 calls during that period. No serious injuries were reported.
Fire Chief Scott Goldstein stated between 20-30 structures in Olney were damaged, and many residents have been displaced and are being assisted by the Red Cross. The storm, "likely a tornado" according to Piringer, marks the second of its ferocity this year. With the humidity increasing, more storms are forecasted as early as the afternoon of July 16.
The Olney community banded together following the damage to help clean up their neighborhood. Residents could be seen working together for hours chopping up large fallen tress with gas-powered chainsaws and machetes, while local tree service companies are pitching in with cranes to help clear the debris.
In neighboring Prince George's County, College Park and Bowie residents report still being without power days after the storm. Montgomery County residents are encouraged to contact their provider if power has not yet been restored.
We're seeing some power outages across #MoCo. Keep your electric company's phone # ready to report an outage if your power goes out. Don't assume someone will report it for you! 

📱@MyBGE – 1-877-778-2222 
📱@PotomacEdison – 1-888-544-4877 
📱@PepcoConnect – 1-877-737-2662 pic.twitter.com/RIIn4StgHi

— Montgomery Co OEMHS (@ReadyMontgomery) July 12, 2022
If your property has been damaged, the Maryland Insurance Administration can assist in contacting your insurance provider or instruct you on how to file a claim. Contact MIA by calling 800-492-6116.
MCFRS reminds residents to never cross over a fallen tree and to always treat downed wires as if they are live. For assistance with storm debris, contact MCFRS.
Related:
Olney Among Areas Hit Hard During Severe Storm; Dozens Likely Displaced