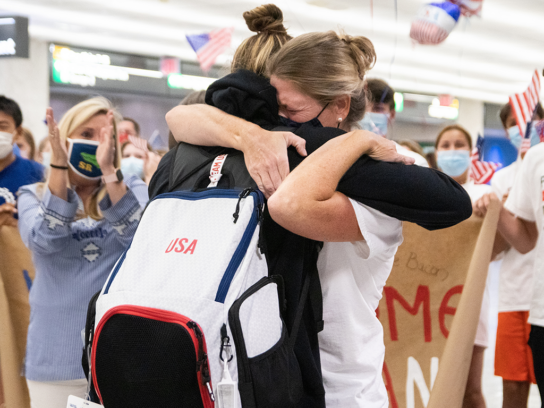 After competing in the Olympic final for the women's 200 meter backstroke on Friday, Phoebe Bacon arrived at Dulles Airport Monday evening.
Many of Bacon's friends and family members gave her the greeting of a champion when she arrived. Bacon grew up in Chevy Chase and graduated from Stone Ridge School of the Sacred Heart in 2020.
Bacon told MyMCM that the greeting brought a tear to her eye and that she's excited to see her family and friends again.
"The number one thing I'm gonna do is sleep in my own bed, I am over the cardboard beds, the foam mattresses, that's probably top of my list right now," Bacon said, evidently unaware that two weeks ago her mother, Phillipa Bacon, told MyMCM that her younger brother had secretly been staying in her room while she was away. (Shhhh.)
 

View this post on Instagram

 

When asked if she has her sights set on competing in the 2024 Olympics in Paris, Bacon said, "Oh, for sure."
"I am so eager to get back into the pool, start training, get back into the weight room and just begin to prepare for what's next to come"