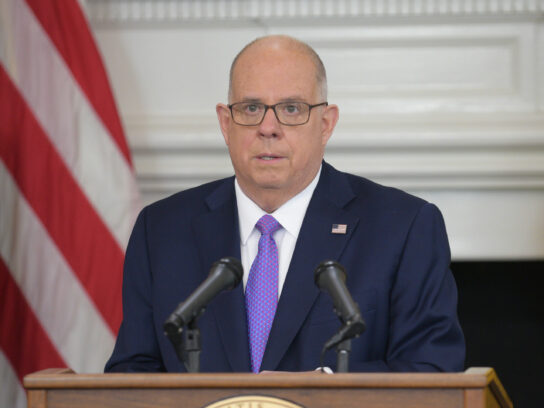 Maryland Gov. Larry Hogan, a Republican, declared on CNN's "State of the Union" that "I would have" voted to convict former Pres. Donald Trump.
During interviews Feb. 14 on both CNN and NBC, Hogan praised the seven Republican senators who did vote to convict. He told CNN's Jake Tapper, "I'm proud of them because sometimes it's not — it's not easy to go against your party and the base of your party and the former President and — but it's hard to do the right thing sometimes, but I think I'm proud of those folks that did take that decision and put the country ahead of party or personal affection or whatever."
Those Republican senators who voted to convict "put the country ahead of the party," he said.
Hogan also appeared on NBC's "Meet the Press" with Chuck Todd where he said that "time will tell" what will happen to the Republican Party and Trump, noting some of it will be played out in both the court of law and the court of public opinion.
"I think this stuff is fluid," he said on NBC. "I think there is going to be a real battle for the soul of the Republican Party. I think that battle is just beginning."
Hogan's father, Lawrence, was the only Republican representative in 1974 to vote to recommend all three House articles of impeachment against Republican President Richard Nixon. Nixon resigned instead of facing almost certain impeachment and removal from office.
Here are Hogan's interviews on the Sunday news programs.
Maryland Gov. Larry Hogan says that former Pres. Trump could still face criminal charges: "This is not over and we're going to decide over the next couple of years what the fate of Donald Trump and the Republican Party is." #CNNSOTU https://t.co/4RnLvtzIN3 pic.twitter.com/qDSMMFPc8n

— CNN Politics (@CNNPolitics) February 14, 2021