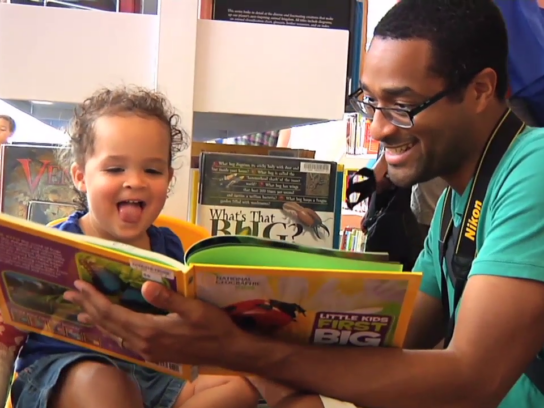 Create a poem with your children, turn it into a cheer when they play sports and draw a picture about it. This was just one of the many ways panelists at Read Across Montgomery County cited to get children not just to read, but to love reading.
Sponsored by the Children's Opportunity Fund in Washington, D.C., the virtual event Tuesday advised parents and those who work with children that it is never too soon to teach them to learn to read and learn.
Right from birth, read books filled with pictures to infants, said Kimberly Rusnak, project director of the Children's Opportunity Fund, Greater Washington Community Foundation. "With toddlers, just make it fun," she said. Engage them and point to the pictures and words, the panelists suggested. Reading daily and at a regular time, for instance right before bedtime, helps build good habits, they said.
Kareen Bernard of Silver Spring, and author of the children's book series, Billy's Adventures, suggested that the best way to get children to become readers is by "walking the walk. Set aside time and give them books they can relate to. Captivate them."
Councilmember Craig Rice read aloud, "Peaceful Protests," by Bernard Kareem and Icen Bernard. Then children watching the program were urged to design a comic strip about the book.
The event was held on Read Across America Day, and many elementary schools in Montgomery County included dress up and reading programs throughout the school day. It is held annually on March 2, the birthday of Dr. Seuss.
Tuesday morning, Dr. Seuss Enterprises announced that it will no longer publish or license six of Dr. Seuss' books, including, "And to Think That I Saw it on Mulberry Street," "If I Ran the Zoo," "McElligot's Pool," "On Beyond Zebra!" "Scrambled Eggs Super!" and "The Cat's Quizzer."
"These books portray people in ways that are hurtful and wrong," Dr. Seuss Enterprises announced in its news release.
To celebrate #ReadAcrossAmericaDay, I read "Green Eggs and Ham", by Dr. Seuss. If you have 7 minutes, watch, enjoy, and #share: https://t.co/PAGBTONI1y

— Boyd Rutherford (@BoydKRutherford) March 2, 2021
"Peppa Pig Safety First" by Courtney Carbone
Read by Julie Kwedar, Program/Resources/Outreach Manager, Maryland Highway Safety Officehttps://t.co/yXAAvtVb36

— MD Highway Safety Office (@zerodeathsMD) March 2, 2021
Dr. Seuss wasn't just a great writer and illustrator. He was a lover of life, learning, and laughing. May we all find time today–and everyday–to pick up a book and discover new places to go! #drseuss #readacrossamerica #earlychildhoodliteracy #ohtheplacesyoullgo #catinthehat pic.twitter.com/VYw0ztm16T

— blackrockcenter (@BlackRockCenter) March 2, 2021