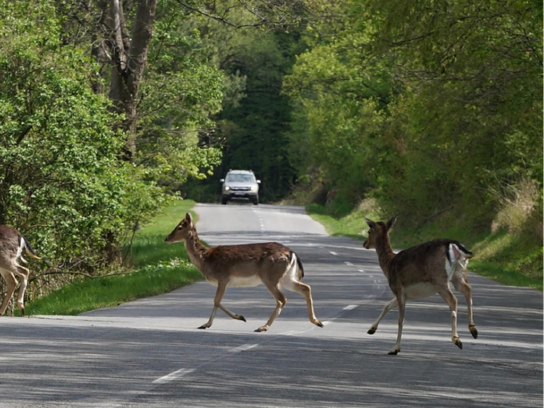 Starting this week, Montgomery Parks is urging visitors to plan their visits around scheduled closures, according to an August announcement. The reason? Annual deer population management programming — which utilizes "carefully screened, qualified, and licensed recreational hunters"  to maintain the County's ecological balance.
According to the announcement, the deer population in Montgomery County exceeds both the biological carrying capacity and the cultural carrying capacity. The former refers to the number of deer that can be supported be the parks' natural resources, while the latter relates to "capacity for tolerance by citizens residing in the County."
"Montgomery County is a mixture of urban, suburban, and agriculturally developed lands.  This gradient of development offers excellent "edge" habitat, rich in food and cover resources where deer thrive," David Petersen, Montgomery Parks Wildlife Ecologist said. "This advantageous habitat, combined with limited hunting and lack of other predators, results in high deer populations and associated impacts to the environment and human interests in the county."
Overabundant deer populations can result in deer-automobile accidents; damage to the environment, private landscapes and agriculture; and concerns over disease, the announcement said. The deer population management program was started 25 years ago to address these issues. Since then, over 21,500 deer have been removed from a total of 60 County parks.
Our annual deer population management program is now underway at sixty parks.

For schedule and park closures, visit our website: https://t.co/jl7F0RApDi. pic.twitter.com/IHMH8l8EpR

— Montgomery Parks (@MontgomeryParks) October 25, 2021
The program facilitates three kinds of hunting in County parks — shotgun-managed programming, archery-managed programming and sharpshooting operations led by park police. Both archery-managed programming and sharpshooting operations will take place during off-hours, and will not disrupt normal park operations.
Shotgun hunting results in 24 hour closures of selected parks. On Friday, shotgun hunting will take place in the Ten Mile Creek segment of Black Hill Regional Park and the whole of Bucklodge Conservation Park. On Saturday, Hoyles Mill Conservation Park will close.
According to Montgomery Parks, signage will be posted throughout and surrounding affected parks, at all park entrances, and in select communities surrounding the affected parks. Residents can also access a schedule of locations and dates on the Montgomery Parks website.
Across all program elements, the safety of residents remains our top priority," Petersen said.