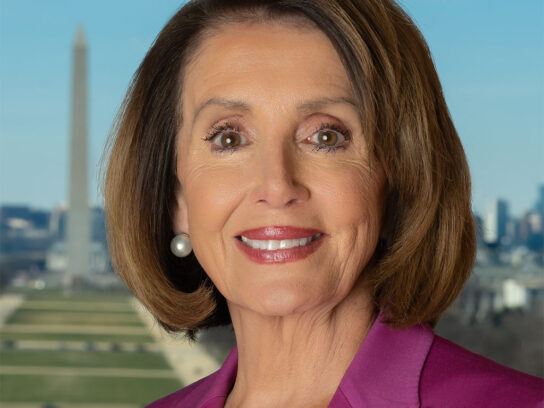 House Speaker Nancy Pelosi (D-Calif.) delivered a eulogy at Cokie Roberts's funeral at Saint Matthew's Cathedral in Washington D.C. on Saturday.
During Pelosi's remark's she called Roberts a "national treasure, whose passing is a great loss for America."
"The passing of Cokie Roberts is a great official loss for our nation, and a deep personal loss for all who were blessed to call Cokie a friend."
FULL REMARKS: House Speaker Nancy Pelosi delivers the eulogy at Cokie Roberts' memorial service: "Cokie knew her power, and she used it to forge a better America… we'll always remember Cokie." https://t.co/hi3CWYxPtq pic.twitter.com/upSQD1Gt8y

— ABC News (@ABC) September 21, 2019
During the eulogy, Pelosi spoke about her personal connection with Roberts, as both women and daughters of parents who were in Congress at the same time.
For me, it is official, and also deeply personal. Our two families share a friendship that spans generations. Our parents had come to the Congress at around the same time, when my father Tommy D'Alesandro and her father, the legendary Hale Boggs, who would become the Democratic Leader of the House and he lovingly represented Louisiana while they served in the House together. So, our parents – or, at least I think – that's why Cokie was always so protective of me, many years later.
Pelosi also spoke about serving with Roberts's mother in Congress, who took her husband's seat in Congress after he died in an air crash.
I, among many, had the privilege of serving with Lindy Boggs – the gracious, genteel Lindy Boggs – in the Congress. We learned from her in Congress. We grieved from her – with her with Barbara's passing. We named a room for her in the Capitol. And I had the privilege of speaking at her funeral service in New Orleans.
Cokie Roberts' mother was Rep. Lindy Boggs (D-LA).
Here's part of Nancy Pelosi floor tribute to Rep Boggs on Oct. 25, 1990 (Boggs left office 1991) pic.twitter.com/J01VpgLwRr

— Howard Mortman (@HowardMortman) September 18, 2019
Roberts's sister Barbara Boggs had served as the Mayor of the Borough of Princeton in New Jersey from 1983 until she died of cancer in 1990.
"Cokie knew her power, and she used it to forge a better America. We will dearly miss her great spirit of generosity and goodness, radiating joy to all," Pelosi said.