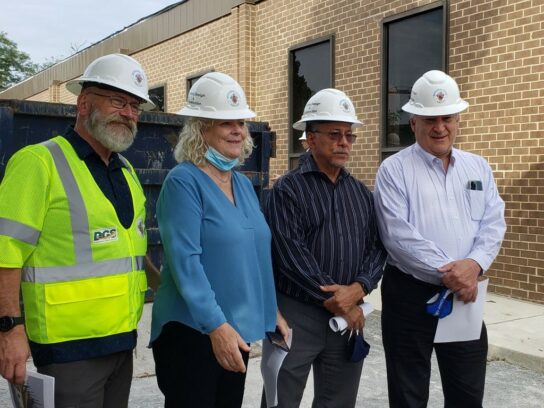 By the beginning of 2022, Montgomery County's brand new permanent shelter for 200 homeless males will open on Nebel Street in Rockville.
Currently, the county mostly houses its homeless in temporary shelters, some that are only available during very cold or very hot weather. Others are housed in area hotels and still others are moved into permanent supportive housing. Also, the county now uses the Long Branch and Coffield community centers to house homeless men, closing those recreation centers to area residents.
Demand for the numerous temporary shelters arose about two years ago when the county had to shut its facility on East Gude Drive in Rockville following mysterious vibrations from a nearby landfill.
Also, an increase in the need for shelter space arose during the pandemic to accommodate safe distancing regulations. For instance, in one shelter that had held 100 men, only 37 men are permitted now, explained Susie-Sinclair Smith, executive director of the Montgomery County Coalition for the Homeless.
When the Nebel Street shelter opens, the county will return the two community centers to their former use and stop using some of its temporary shelters.
On Friday, county officials led a walking tour of the new facility, which is located near public transportation. The interior work is just beginning. Rooms, called pods, will house shall groups of men, rather than the normal homeless shelters with vast open spaces and lots of cots right next to each other.
Each resident will have a bed that includes storage space and an electrical outlet for connectivity.
There will be a computer lab, dining area, elevator and spaces for residents to meet with job counselors and social workers. Instead of written signs pointing to the various rooms, there will be color coded directional signs to accommodate the many languages spoken by residents.
"I like this as we are on a continual path" toward ending homelessness, said County Executive Marc Elrich. "It's a huge change for the county, not having homeless outside all year except during extreme cold." He added, "If you know you are going to eat, watch tv, read a book, you are not going to wander the streets as much."
What the county has been doing with its homeless is "shameless," said Elrich. "People sleeping outside is the expected routine."
Also, he noted, the county will save money by placing fewer people in hotels. The county then can shift some of that money to cover the costs for other services aimed at stopping people from ever becoming homeless, Elrich said.
The goal of the county's homeless program is, "Rare, brief and and non-recurring," noted County councilmember Evan Glass.
"We are really proud of the work that is being done here," said David Dise, the county's director of the Department of General Services.
Here is what the building looks like as of Oct. 15.