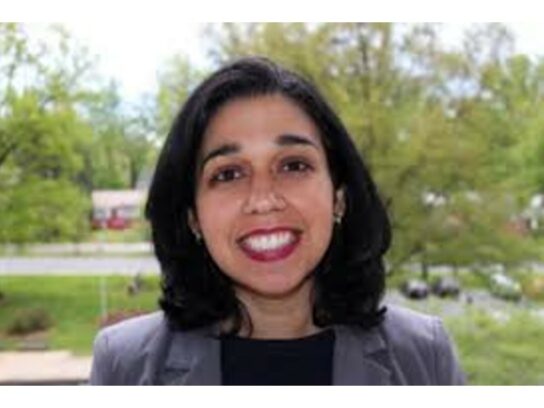 Natali Fani-Gonzalez, vice chair of the Montgomery County Planning Board and a member of the Maryland-National Capital Park and Planning Commission, announced her resignation, effective Aug. 31, to focus on her bid to become a Montgomery County Council member.
Fani-Gonzalez is the first Latinx and first millennial to serve on the planning board. She was appointed in 2014 and reappointed to serve a second term in 2018. She previously announced her plans to run for council in District 4 to replace Councilmember Nancy Navarro.
"July 29 was my last Planning Board session. I would like to thank you for giving me the extraordinary honor to serve the country I love," she wrote in her resignation letter.
The County Council will conduct a search for her replacement.
"Natali has done a tremendous job over the past seven years in engaging our communities to be active participants in planning and landing use decisions," said Planning Board Chair Casey Anderson. "Her passion for Montgomery County will be missed on the Planning Board and we wish her well in her future endeavors."
Fani-Gonzalez is an active commissioner and has been involved with the Bethesda Downtown Sector Plan, Montgomery Village Master Plan, Greater Lyttonsville Sector Plan, Veirs Mills Corridor Master Plan and the Bicycle Master Plan. She also has contributed to Thrive Montgomery 2050, an update to the county's General Plan.
"During my time on the Planning Board, I have stressed that we all benefit from more affordable housing, reliable transit, safe streets, access to local vegetable/fruit gardens, and parks," she wrote in a news release. "These fundamental issues impact our ability to attract and retain employers in Montgomery County and that's why I am so passionate about them."
Fani-González worked with the county planning staff to engage diverse communities and co-hosted the all-Spanish Ask Me Anything virtual community meeting in May 2020.
Former State Delegate Maricé Morales also is running for council in District 4.
I just resigned from the Montgomery County Planning Board. Thanks everyone for their support, love you all! More from @BethesdaBeat: https://t.co/x7Fh9X8JmI pic.twitter.com/IWdneUO8Rv

— Natali Fani-González (@NataliFGonzalez) July 30, 2021