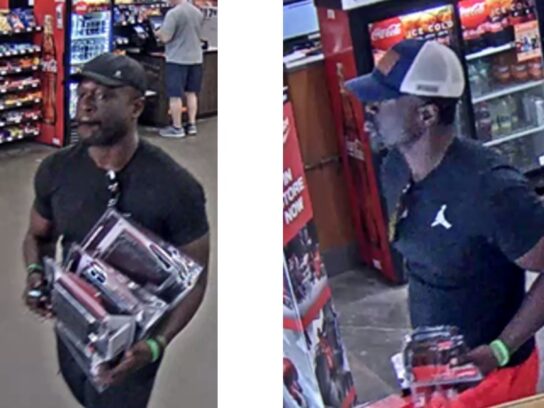 Montgomery County Police are investigating a first-degree assault on one of its officers in the parking lot of Wegmans in Germantown on April 27.
Police responded to the grocery store at 20600 Seneca Meadows Parkway at 2 p.m. for a theft in progress.
According to police, a suspect placed merchandise in a cart and then left the store without paying. The suspect then crossed the street to the parking garage.
Officers approached the suspect, who then ran toward his car. Officers unsuccessfully tried to stop the suspect from entering his vehicle, and the man drove away, striking an officer with the driver side of the vehicle.
The officers followed the vehicle but lost it as the suspected headed south on I270.
The suspect was described as a Black male, approximately 5-feet, 10-inches tall and weighing 200 pounds. He has dark hair and a muscular build and was wearing a white and black baseball cap, a black t-shirt with a white Air Jordan logo on the left side of the chest, red shorts and red and white shoes, according to police.
Police learned the same suspect had stolen merchandise from several Home Depot stores in Maryland and Washington, D.C.
Anyone with information is asked to call 866-411-TIPS (8477). A reward of up to $10,000 is being offered for information that leads to the arrest of the suspect. Callers may remain anonymous.
Montgomery County Police Investigate First-Degree Assault on Police Officer; Surveillance Photos of Suspect Releasedhttps://t.co/b6ur6ogdiQ#MCPNews #theft pic.twitter.com/aEU7LaPpyd

— Montgomery County Department of Police (@mcpnews) May 26, 2023