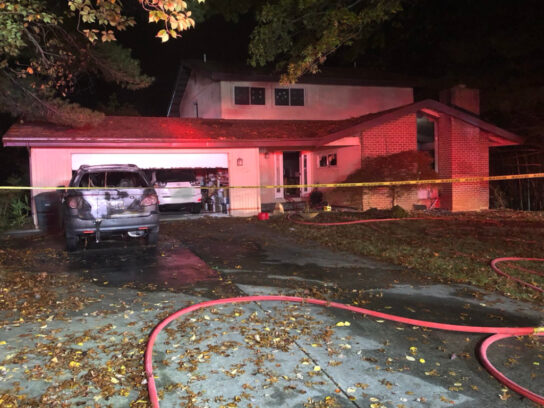 Update (2:06 p.m.): Fire and explosive investigators from the Montgomery County Fire and Rescue Service believe the fire was intentionally set. Damages are estimated to be approximately $100,000.
Officials are asking that anyone with information call the Arson Tip Line at 240-777-2263.
Update – ARSON – just after 1030p Monday 10/26 – 11100blk Korman Dr. neighborhood off Falls Rd (near Golf Course) the fire is believed as incendiary, intentional set, ARSON; Damage, total loss ~$100K, 1 injury- Anyone with information Contact @mcfrs Arson Tip Line (240) 777-2263 https://t.co/UF1e9G1cfu pic.twitter.com/qoxSAxkyNF

— Pete Piringer (@mcfrsPIO) October 27, 2020
Original Post: A Montgomery County woman and five cats were displaced after Montgomery County Fire and Rescue Services (MCFRS) saved them from a burning home on Korman Drive in Potomac late Monday evening.
MCFRS Chief Spokesperson Pete Piringer says firefighters and police responded to the scene around 10:45 p.m., and were alerted of an occupant stuck in a second floor bedroom. Firefighters used a ladder to rescue the woman and her cats.
The woman was later transported to the hospital for possible smoke inhalation. The cats were taken and treated by animal services, Piringer says.
Update – Korman Dr, fire out, under investigation, 1st arriving FFs encountered car on fire in driveway & smoke coming from house, FFs rescued 1 occupant via ladder, @MCFRS_EMIHS transporting 1 adult NLT, Animal services assisting w/ 5 cats (survived) https://t.co/I7pBzVGUA2 pic.twitter.com/DgyhM3BSTy

— Pete Piringer (@mcfrsPIO) October 27, 2020
When firefighters arrived on the scene, there was a significant car fire and smoke coming from the house. "[Firefighters] did request and were granted additional units to assist them," Piringer says, noting that at one point there were about 50 firefighters on the scene.
Korman Dr, cause of the fire is under investigation, as part of the investigation @mcfrs Accelerant Detection K9 team examined the scene for potential evidence, 1 person & several cats are displaced pic.twitter.com/Y1MNDPWE4R

— Pete Piringer (@mcfrsPIO) October 27, 2020
The Accelerant Detection K9 team was dispatched to the location to help determine the cause of the incident.
Officials believe the incident began outside the home in a parked car. However, the official cause of the fire is still under investigation.