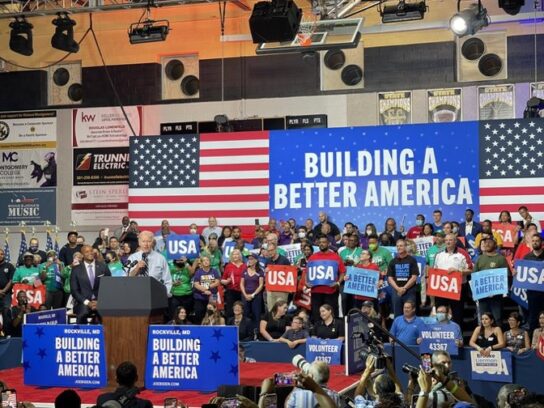 A rowdy, eager crowd of about 4,000 people crowded into a hot Richard Montgomery High School gym to catch a glimpse at Pres. Joe Biden and Wes Moore, the Democratic nominee for governor. Chants of "Let's go Joe" and U-S-A erupted during pauses in speeches.
Supporters crowded Rockville streets and parking lots as they made their way through security before waiting hours to catch a glimpse of Biden. David Mederios drove eight-and-a-half hours "just for this." He explained, "I wrote a book on civility and what President Biden embodies. I was really compelled to be here."
Biden urged those in attendance to support Democratic candidates. "There is a lot at stake. I want to be crystal clear what is on the ballot" in November, Biden said, then listing women's rights, the future of the planet, health care and gun control.
"Will we be a country who moves forward or moves backward?" he asked, calling Democrats the party of "the future, unity, hope, optimism."
When someone in the crowd screamed out, "You stole the election," the crowd quickly and loudly shouted him down. He was escorted out, but not before bowing to the crowd.
Biden spoke of recently passed bills to help the economy, reduce prescription drug prices and pay for new infrastructure, and then criticized Republicans who voted against these laws and then returned home to boast about the funds coming to their states.
Using slides, Biden criticized republican legislators for their stance on a variety of issues, from taxes to social security and women's reproductive rights.
Two Richard Montgomery High School students said they came to see the president. "It's a once in a lifetime experience," said ninth grader Jenna Rosenblatt. When asked if they were politically active, her friend, ninth-grader Priya Udeshi, replied, "I mean we are kids."
Democratic National Committee Jamie Harrison and Maryland Comptroller Democratic Nominee Brooke Lierman  warmed up the crowd, eliciting loud cheers and clapping with such buzz words as climate control, Roe v Wade, health care and the November election. Lierman vowed to run a 24-county race and urged everyone to help get the Democrat vote out. "The stakes are too high," she said.
U.S. Sen. Ben Cardin, "who has never been more proud to be a democrat," said his party has what it takes to win upcoming elections. "Democrats deliver."
Moore vowed to fight "for a Maryland where we leave nobody behind." He called Montgomery County his hometown – he spent his younger years in Takoma Park.
Moore praised educators and community members who made sure he would thrive "in areas that were overpoliced" and called Maryland "the home of Frederick Douglass, Thurgood Marshall, a mentor of mine – Elijah Cummings … but we also incarcerate more young Black men in this state than anywhere else in the country. Number two is Mississippi."
Moore introduced himself to a crowd who are just beginning to get to know him and his background as an author, combat veteran and Rhodes Scholar.
He spelled out his platform that included free pre-K for all, a service year option where high school graduates give back to the community in exchange for reduced college costs and higher wages.
"Maryland, it is our time. This will be our decade. Now is when Maryland will lead," he declared, while adding he will not underestimate his republican opponent Dan Cox, who he called an election denier and "an insurrectionist who called for [Vice President] Mike Pence to be hung."
U.S. Rep. Jamie Raskin thanked "all you people standing up for a strong democracy in America," adding, "A government of the people, by the people and for the people. That's what we are fighting for."
U.S. House Majority Leader Steny Hoyer urged everyone to support Biden, even though he's not on the upcoming ballot. "Joe Biden is doing what he set out to do," Hoyer said. He referred to the Republican party as the yoyo party where "you're on your own."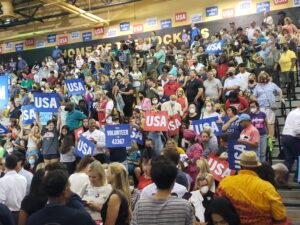 Many council and schoolboard members were in attendance. They expressed excitement that Biden chose Montgomery County.
"I am excited. I am very excited to support our president. I am looking forward to hearing where they want to take this county, this state," Montgomery County Board of Education President Brenda Wolff said of the speakers.
A Montgomery County Police officer who only identified simply as Mr. Jacobs helped patrol the area. He told MyMCM he was impressed that a young man, who did not support Biden, came up to him and said "'When your president comes to your town, you show up.' I thought that was a good statement from a young man."
The President (@POTUS) is speaking now in Rockville. @mymcmedia pic.twitter.com/pZZWVBjErf

— Maryam Shahzad (@maryam_mcm) August 25, 2022
We are here at Richard Montgomery High School for the Building a Better America Rally. You can keep up to date with what's going on by following our reporters @maryam_mcm and @SuzannePollak for live tweets of the event and @MHernandezTV_ for live tweets in Spanish. pic.twitter.com/fLDxgUtiDU

— MyMCMedia (@mymcmedia) August 25, 2022
You can watch both of their full speeches below.