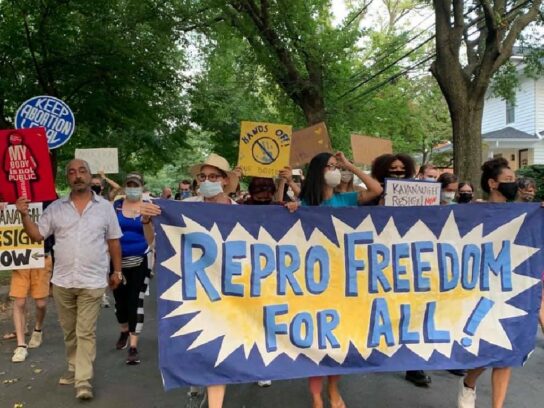 About 70 people gathered at a park on Shepherd Street in Chevy Chase, carrying signs for reproductive freedom, as they marched together for about one-half mile to the home of U.S. Supreme Court Justice Brett Kavanaugh Monday.
The protesters wanted to make their voices heard following Kavanaugh and the majority of the Supreme Court justices' refusal to block a Texas law that would ban abortions after the first six weeks.
"We wanted to strike while the iron was hot, while it was on everyone's mind," said Hope Neyer of Shut Down DC, which was involved in the protest. "We felt a lot of urgency," said the American University student.
Kavanaugh and other other conservatives on the Supreme Court are involved in "the erosion of bodily autonomy," Neyer said.
Many of the same people marching Monday night actively protested Kavanaugh's confirmation hearing to the bench, and Shut Down DC intends to continue building from the momentum gained at that time. Neyer pointed out that some of Kavanaugh's neighbors joined the march.