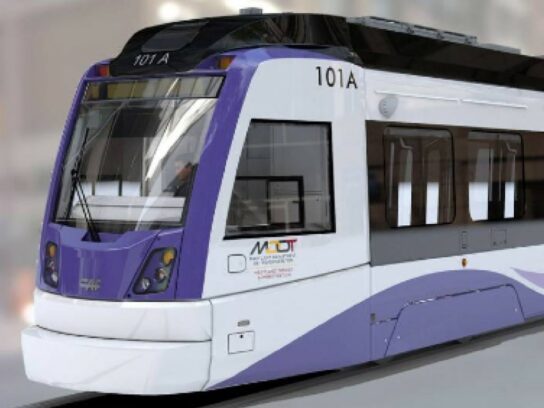 In three years, the Purple Line – a 16-mile light rail line that will extend from Bethesda in Montgomery County to New Carrollton in Prince George's County – will be up and running. It will provide a direct connection to the Metrorail Red, Green and Orange Line at Bethesda, Silver Spring, College Park, and New Carrollton. The Purple Line will also connect to MARC, Amtrak, and local bus services. The new light-rail line is expected to open in 2022.
There's a light-rail model on tour right now and is on temporary display at the Silver Spring Library, which will be a future Purple Line station.
Curious about what the #PurpleLineMD light-rail vehicles (LRVs) will look like? Check out our model LRV, which is on tour and temporarily on display at the Silver Spring library, a future Purple Line station.

📷: @beyonddc#MDOTscenes pic.twitter.com/i4gUWNZOED

— Purple Line (@PurpleLineMD) November 22, 2019
Once completed, the Purple Line will be considered a transit system separate from Metro, it will operate mainly in dedicated or exclusive lanes, allowing for fast, reliable transit operations.
Last week, #PurpleLineMD crews began to place arches that will form part of an extended Baltimore-Washington Parkway bridge, allowing the Purple Line light-rail vehicles to run on Riverdale Road below the bridges.#MDOTscenes pic.twitter.com/YsB5b8SSXl

— Purple Line (@PurpleLineMD) November 25, 2019
Officials from .U.S. Department of Transportation, which is helping fund #PurpleLineMD, stopped at the future Manchester Place station during their tour of the project on Wednesday. #MDOTscenes pic.twitter.com/HKLidhCkZe

— Purple Line (@PurpleLineMD) November 21, 2019