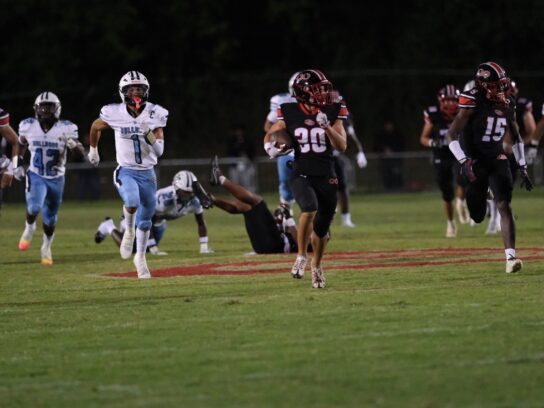 In a cross-state battle of powerhouse football programs, Quince Orchard extended their winning streak to 33 games with a 29-22 come-from-behind victory over Stone Bridge (Ashburn, Va.).
QO took a quick 7-0 lead when running back Iverson Howard took the opening handoff 80 yards. The Cougars led by scores of 14-0 and 21-7 at the half. But Stone Bridge stormed back in the second half taking a 22-21 with under 2:00 to remaining in the game.
Unaccustomed to close games, the usually dominant Cougars had the last word. Senior quarterback Nick Marzullo hit receiver Tavahri Groves for a 39-yard  touchdown with :17 seconds to play to win the game. The Cougars added a 2-point conversion winning 29-22. They are now 3-0. Stone Bridge fell to 1-4.
The game – and all MCPS football games this week – was played on Thursday night instead of the customary Friday night because of Rosh Hashanah, the Jewish New Year.
With 17 seconds left, it comes down to THIS pass from @Nino_Marzullo to @TavahriG for the most CLUTCH TD in who knows how long! (2pt good)
QO 29 – Stone Bridge 22, :17 4th pic.twitter.com/V0LYUQiSUA

— Jud Ashman (@judashman) September 15, 2023
Marzullo to Groves with 17 secs left for the game winning score. It was a 38 yard rope to Groves. Groves carried his defender 7 yards into the end zone. He would not be denied the score. Marzullo would convert on 2 pt conversion. QO would lead 29-22. QO would Intercept on final… pic.twitter.com/6gYLALAAiz

— Phil Fabrizio (@Photoloaf) September 15, 2023
Stone Bridge scores on 4th down 4 yd run by #1 and they take the lead. (2pt attempt fails)
Stone Bridge 22 – QO 21, 1:58 4th pic.twitter.com/JR5WFNaBUI

— Jud Ashman (@judashman) September 15, 2023
Happy Home team crowd at the #CougarDome. It was a nail biter 4 th quarter for both sides. SBvsQO@StoneBridgeFB@QOFootball@mymcmedia@SBHS_Athletics@QOAthletics@QOSportsNet@MCPSAthletics@MPSSAA439407@QOHSPrin_Thomas#CougarDome@QO_Coach_Kelley@T_Money4699 pic.twitter.com/G280Br9b2W

— Phil Fabrizio (@Photoloaf) September 15, 2023
Final 29-22 QO remains undefeated. SB 3 losses to 3 very good teams Martinsburg WV, James Madison and now QO. Lots of fun can we do this again next year in Ashburn? SBvsQO@StoneBridgeFB@QOFootball@mymcmedia@SBHS_Athletics@QOAthletics@QOSportsNet@MCPSAthletics… pic.twitter.com/pLVEiiaXog

— Phil Fabrizio (@Photoloaf) September 15, 2023
Iverson takes handoff 80 yards on the opening play for QO QO up 7 zip. SBvsQO@StoneBridgeFB@QOFootball@mymcmedia@SBHS_Athletics@QOAthletics@QOSportsNet@MCPSAthletics@MPSSAA439407@QOHSPrin_Thomas#CougarDome pic.twitter.com/WVhaPOXdKW

— Phil Fabrizio (@Photoloaf) September 14, 2023
Photographs taken by Phil Fabrizio