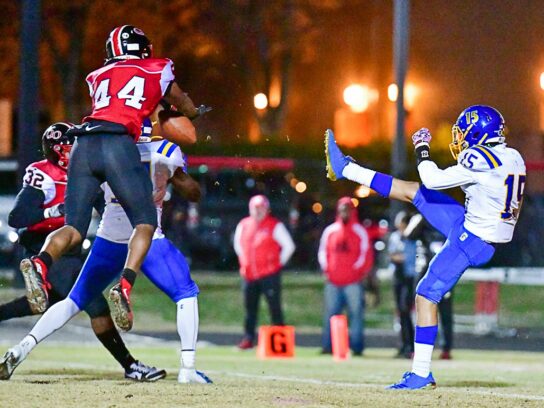 The second week of Montgomery County's football regional playoffs present several great match-ups Friday night. Undefeated Quince Orchard attempts to extend their perfect season with a home game against upstart Walter Johnson. MyMCMedia will provide pictures and score updates on Twitter, Instagram and Facebook for the Q.O. game plus two other featured games (*).
4A West
*#4 Walter Johnson (8-2) at #1 Quince Orchard (10-0) Friday at 7 pm
*#3 Richard Montgomery (8-2) at #2 Northwest (9-1) Friday at 7 pm
4A North
#4 Einstein (7-3) vs #1 Parkville (10-0) at Perry Hall HS Friday at 7 pm
*#3 Sherwood (8-2) at #2 Paint Branch (9-1) Friday at 7 pm
3A West
#4 Rockville (8-2) at #1 Linganore (9-1) Friday 7 pm
#3 South Hagerstown (9-1) at #2 Damascus (8-2) Friday 7 pm
Winners of tonight's games move on to the State quarterfinals next weekend. MyMCMedia will continue to have you covered in the playoffs as long as Montgomery County teams are playing.