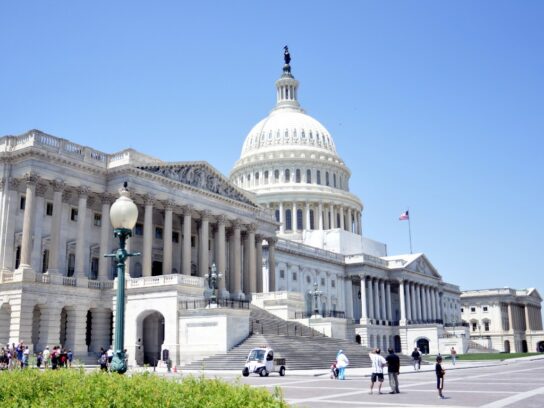 Julie Tagen, U.S. Rep. Jamie Raskin's chief of staff suffered through a traumatic day at the U.S. Capitol as she sequestered as rioters stormed the government building.
In a lengthy Facebook post, Tagen wrote how she began the day excited as she anticipated the electoral college vote that would certify that President-Elect Joe Biden and Vice President-Elect Kamala Harris had won the election. She was particularly thrilled considering her boss was given "the high honor of being one of the four key players" by Speaker Nancy Pelosi and would be giving a speech, she noted.
She also was happy to share the momentous day with Raskin's daughter and son-in-law.
Before Raskin's speech, she peered out the window and saw the crowds gathering. She said she remained calm, because, "It never once entered my mind that something bad could happen." Still, she wrote, "it began to look like mayhem. Scores of angry white men with Trump and Confederate flags stomped around, clad in camouflage and flak jackets."
Also, she noted, the police "who did not have riot gear on" did not appear to be controlling the mob, adding, "I assumed by letting them rush the Senate side that it was a strategy to arrest or disperse them."
But that quickly changed when Tagen received an alert that the Capitol had been breached and everyone should turn off all sounds in their offices and take cover. Both members of Raskin's family "crammed under Steny Hoyer's desk, and I took the chairs in the room and barricaded the door," she posted on Facebook, referring to U.S. Rep. Hoyer, House Majority Leader.
Tagen wrote that that they were "trapped in a room with a giant photograph of John Lewis on the wall and a bust of Abraham Lincoln on the fireplace mantel. I said to myself, and perhaps out loud, 'These people are TERRORISTS. They cannot win.'"
Not only was Tagen scared, but she also was very concerned for Raskin's family members, who were going through the horrible trauma of losing their brother and brother-in-law, Raskin's son, Tommy, on New Year's Eve.
The three clearly heard "heavy footsteps outside our door as they tried to breach the House floor. We could hear them chanting, 'USA, USA' and 'We want Trump' and 'Stop the Steal,' she posted on Facebook.
About thirty minutes later, five Capitol police opened the door and said, 'Let's Roll!!'' she wrote, adding, they were then taken to a secure location where they were met up with a "super relieved" Rep. Raskin.
Finally, at 9:15 p.m., Raskin's daughter and son-in-law were driven back to Maryland. Tagen "stayed with Jamie until the end until 4 a.m."
As scary and traumatic as the events were, Tagen wrote, "I don't want to EVER forget the details of January 6, 2021."