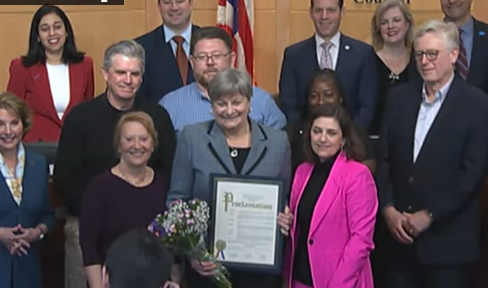 Recently retired President and CEO of the Greater Silver Spring Chamber of Commerce, Jane Redicker, was lauded Tuesday morning for being "one of our fiercest advocates" to financially assist both the county and business owners.
Council issued a proclamation in honor of her almost 18 years of service.
During her term, Silver Spring added a new library, the Fillmore and the Silver Spring Civic Building and Veterans Plaza. She also helped many businesses obtain funding and assistance during the pandemic and welcomed three breweries and a winery to Silver Spring.
She helped initiate a public safety task force. While accepting the proclamation, she acknowledged that more work needs to be done in this area.
Councilmember Kate Stewart called Redicker "a huge champion of our businesses, and especially Silver Spring."
Redicker said heading the chamber was "the most rewarding job of my life," and noted that she particularly enjoyed working with the business owners who often not only worked in the community but also lived there as well and cared deeply.
Redicker, who was voted Maryland Chamber Executive of the Year in 2013, previously served for four years as the first executive director of the American Chamber of Commerce in China in Beijing.
In December of 2022, Redicker was chosen by U.S. Rep. Jamie Raskin as a local hero. At that time, she said of the Purple Line, "We are pleased that it's finally being built. That's the good part."
She then added, "But it's taking a lot longer that we thought. It seems like it takes a really long time" to install underground utilities, "and that's been hard on businesses."
Now retired, Redicker plans to travel with her husband and continue being of service, which she said, "It's kind of in my DNA." She hopes to get involved with hospice.
Councilmembers @cmkatestewart and Marilyn Balcombe present a proclamation to celebrate the achievements of Jane Redicker, who announced her retirement after serving as President & CEO at the Greater Silver Spring Chamber of Commerce for 17 years. @GSSChamber pic.twitter.com/BKeaJxKUHU

— Montgomery Council (@MoCoCouncilMD) March 7, 2023