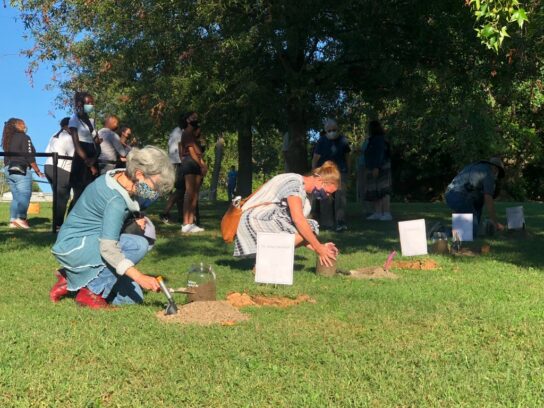 In the late 1800s, two Black men were lynched in the Rockville area.
On Sunday, leaders and residents joined a remembrance walk and soil collection ceremony to memorialize John Diggs-Dorsey and Sidney Randolph. According to Montgomery History, Diggs-Dorsey was accused of assault in 1880 and jailed, when a mob captured him and lynched him. Randolph was accused of a fatal attack in 1896; a mob dragged him from the Rockville jail and lynched him.
The pilgrimage walk began by the site where the old Montgomery County jail once was, close to where the county council building is now located in Rockville. Participants made several stops, including the West Farm, which is the area where Diggs-Dorsey was lynched, and the Anderson Farm, where Randolph suffered the same death, according to the Montgomery County Lynching Memorial Project.
The walk ended at Welsh Park in Rockville. It is near the halfway point between the two areas where both men were killed. During the soil collection ceremony at the park, residents quietly lined up to scoop soil into several jars placed on the ground, each with a card naming either Diggs-Dorsey or Randolph. Soil from Welsh Park was combined with soil from near the areas where the men were lynched, said Lesley Younge with the County Lynching Memorial Project.
"In the soil is the blood of those who labored through the indignation of slavery," said Elliot Spillers, Justice Fellow at Equal Justice Initiative based in Montgomery, Alabama. "In the soil is the sweat of those who had to endure the embarrassment and humiliation of Jim Crow segregation in the deep south. But also in the soil is the opportunity for new life, the opportunity for growth."
One jar for each victim will go to the Equal Justice Initiative's Legacy Museum in Alabama, where jars from other counties will also be held. Jars will also go to Montgomery History, the Menare Foundation and Jim Stowe on behalf of the Montgomery County Remembrance and Reconciliation Commission.
"They will be used to help educate our county on this painful legacy for years to come," Younge said. The County's Lynching Memorial Project and Remembrance and Reconciliation Commission hosted Sunday's events.
"It's far too easy to dismiss these acts as aberrations," said Jason Green, Chair of the Remembrance and Reconciliation Commission. "One time events, distant in the past with no bearing on today. But we know that the systematic denial of rights continues."
Green said the ceremony is a step along the long and winding path toward reconciliation. Councilmember Hans Riemer, who helped lead the council's effort to create the commission in 2019, read a proclamation on behalf of the council commemorating Diggs-Dorsey and Randolph.
"We recognize it doesn't restore what was taken from them, but it is a recognition," Riemer said.
Finally, young volunteers held the full jars of soil and walked north, south, east and west to symbolize hope for racial equality, justice and reconciliation.
A soil collection ceremony remembers John Diggs-Dorsey and Sidney Randolph, two Black men who were lynched in Rockville in the late 1800s. @mymcmedia pic.twitter.com/jJbp1cCEX1

— Maryam Shahzad (@maryam_mcm) September 26, 2021