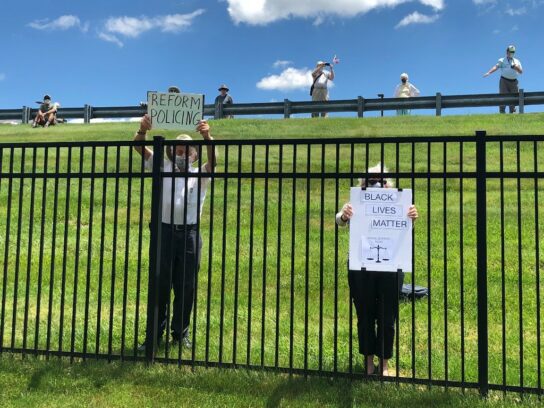 Retirees at the Asbury Methodist Village in Gaithersburg came out to show support for Black Lives Matter protesters on Sunday.
The retirement community is across the street from Lakeforest Mall, where Sunday's protest began. As people marched down the street, these older residents came as far as the perimeter fence with signs like "reform policing" and "Black Lives Matter." Protesters passing by thanked them.
The community sits on a hill much higher than the street, and residents at the top held letters to spell out "BLACK LIVES MATTER." Although large gatherings like protests are occurring, the COVID-19 pandemic is ongoing. The virus is more deadly to older residents, and long-term care facilities have proven to be hotspots for the illness. Protesting within retirement home boundaries is no doubt a safer way for these senior citizens to show support, while also avoiding physical strain.
Supporters from the retirement community across the mall. @mymcmedia pic.twitter.com/WKRcpqoVAE

— Maryam Shahzad (@maryam_mcm) June 7, 2020
More retirees cheering on protesters. pic.twitter.com/Td6OLpfU9R

— Maryam Shahzad (@maryam_mcm) June 7, 2020
Here's another sign that was posted at Asbury #BlackLivesMattters pic.twitter.com/zKlqomUwU8

— Zach (@iluvalpacas1) June 7, 2020