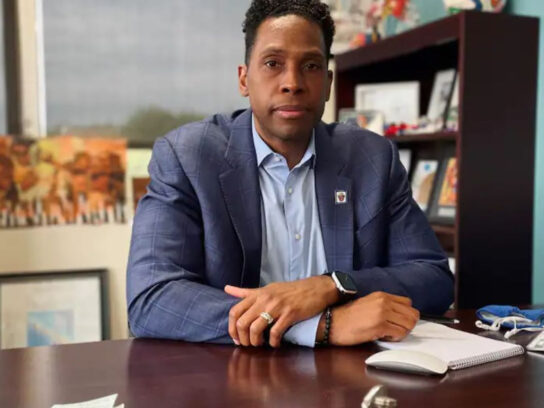 Councilmember Craig Rice will announce the winner of the Councilmember for a Day Challenge Wednesday at the conclusion of a screening of the top five videos entered into this year's competition. The screening will be broadcast live on Wednesday, May 5, at 3:30 p.m. on County Cable Montgomery (Comcast channel 6 and Verizon channel 30), Montgomery Community Media (channel 21), and Montgomery Municipal Cable (channel 16).
Rice, who chairs the Council's Education and Culture Committee, developed the annual Councilmember for a Day program six years ago as a way for youth to engage in public policy issues and learn about local government. Initially, most of the entries were in the form of an essay. This year Rice partnered with Montgomery County Public Schools and Montgomery College to include an eight-week curriculum on digital storytelling. Each participant was provided with an iPad and taught by trained staff on inclusive storytelling through digital journalism. The culminating project was producing a video that focused on a public policy issue important to them. The final project was to produce a video that focused on a public policy issue important to them.
The contest was open to students in the eighth through twelfth grades.
"I was absolutely amazed by the video entries this year and selecting the winner was a difficult decision," said Rice. "Our students, once again, demonstrated their talent and passion through these videos. While the film festival only features the top five videos, all submissions were impressive in the stories they told and how they were captured on video."
"The students are an inspiration, and I hope each one understands how their stories help us as elected leaders develop policies and initiatives that respond to the needs in our communities. The stories they told are compelling and speak to what our students are experiencing today. I look forward to the winner sharing their story during our Council session," said Councilmember Rice.
.@RicePolitics Save the Date for the #CM4ADAY 2021 Film Festival 🍎 on May 5th! #craigrice https://t.co/sJZfQEgJdZ pic.twitter.com/56Rjrlwz0e

— Craig Rice (@RicePolitics) March 26, 2021
@ricepolitics Are you Ready for the #Winner of Our Next @MCPS @MCTVsocial #CM4ADay @MCTVsocial Join us May 5, 2021, at 3:30 pm #montgomerycollege @mymcmedia @CountyCableMoCo #craigrice @MoCo @TheMoCoShow pic.twitter.com/xjsBgNYsHw

— Craig Rice (@RicePolitics) May 4, 2021
.@RicePolitics Who will be our Next Councilmember For a Day? Recalling our 1st #CM4ADay Angela Wu! Join us on May 5th at 3:30 for our new Film Festival for the Winning Video! @MoCfoCouncilMD @MCPS @mocoboe @mymcmedia #montgomerycollege @CountyCableMoCo @bethesdabeat https://t.co/jlnX3sEjbs

— Craig Rice (@RicePolitics) May 4, 2021