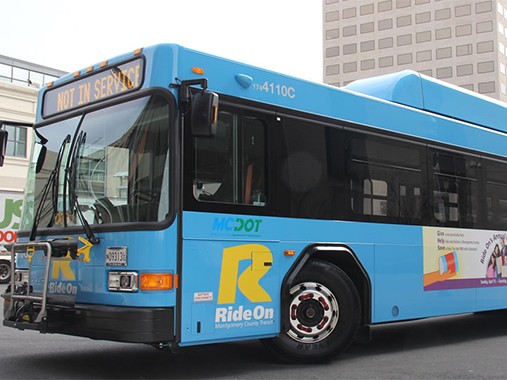 The Montgomery County Department of Transportation (MCDOT) announced Monday that Ride On bus services will be available to transport county residents to early voting locations beginning Oct. 27.
Montgomery County has 14 early voting centers where residents can cast their ballots in advance of election day on Nov. 8. Early voting begins on Oct. 27 and will continue through Nov. 3. Residents can cast their ballots at any early voting location between 7 a.m. and 8 p.m. during that time.
Ride On services will be available each early voting day to transport residents to a polling location. Reliable bus services in the lead-up to Maryland's Gubernatorial General Election in November will allow for "inclusion, connectedness and advancement," for residents who rely on public transportation to make essential trips, said MCDOT Director Chris Conklin.
"We want to ensure that all of our residents, regardless of income or ability, can get to polling sites," Conklin said in MCDOT's Monday release.
Residents can look up scheduled Ride On bus routes by location online. Voters can also learn more about early voting centers and their hours of operation on the Montgomery County Board of Elections website. 
Residents can view a list of Ride On and Metrobus routes that will serve early voting centers online and below.
Activity Center at Bohrer
Bauer Drive Community Recreation Center
Damascus Community Recreation Center
Executive Office Building
Germantown Community Recreation Center
Jane E. Lawton Community Recreation Center
Marilyn J. Praisner Community Recreation Center
Mid-County Community Recreation Center
Nancy H. Dacek N. Potomac Community Recreation Center
Potomac Community Recreation Center
Sandy Spring Volunteer Fire Station
Silver Spring Civic Building
Wheaton Library & Community Recreation Center
White Oak Community Recreation Center
Ride On route 59 (closest)
Ride On route 48
Ride On route 90
Ride On routes 44, 46, 47, 54, 56
Ride On route 98
Ride On route 34 (closest)
Metrobus routes Z6 and Z7
Ride On routes 26, 39 and 49
Ride On route 301
Ride On route 37
Ride On routes 52 and 53 & Metrobus routes Y2 and Y8
Ride On routes 12, 13, 14, 15, 16, 19 & Metrobus route F4
Ride on routes 9 and 31 & Metrobus routes Y2, Y7 and Y8
Ride on route 10 & Metrobus routes Z6 and Z8 (closest)
This article was originally published Oct. 18.