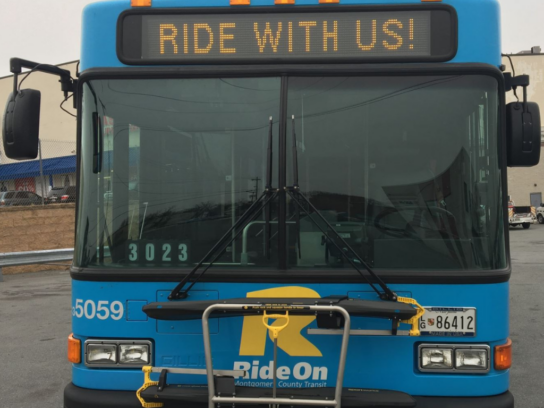 Montgomery County Department of Transportation (MCDOT) announced in a press release Ride On bus service will be reduced beginning Jan. 16, due to staff shortages.
"We are doing all we can to ensure consistency within our transit system for our community members who depend on it," said Chris Conklin, MCDOT Director. "It is imperative that riders know what to expect. This service change will provide a more reliable service."
Due to an increased number of employees contracting or exposed to COVID-19, operator shortages will effectively reduce the scheduled service by about 9%, according to MCDOT. Service changes will be revisited in six to eight weeks' time, or once operator availability returns to normalcy.
MCDOT chief of transit Dan Hibbert said the department is aware service has not yet returned to pre-pandemic levels, and they "hate to pull back" on current service levels. "We just don't have the drivers available to maintain our current schedule and be dependable."
The change in service will maintain capacity for students and continue the Senior Program Transportation service. The temporary change will suspend the Ride On Flex and extRa bus services, and the Flash weekday service will operate on a weekend schedule and will continue to include service to the Food and Drug Administration campus in White Oak.
All schedule changes can be noted on MCDOT's website.