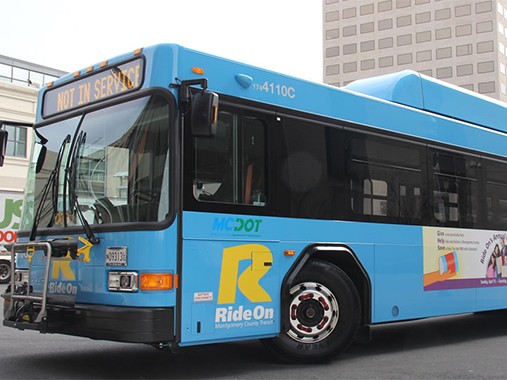 The county Ride On bus system will begin collecting fares again on Aug. 1, the Montgomery County Department of Transportation (MCDOT) announced Monday. The new rate will be set at $1 per ride. 
The decision, which was backed by County Executive Marc Elrich and approved by the county council in May, will impact all Ride On services; such as Ride On extRa, Flex and Flash. Travel will still be covered throughout July. 
Bus fares for all Ride On services were initially made free in March of 2020 as a result of the coronavirus pandemic. The previous fare was set at a rate of $2 per ride prior to the pandemic. Monthly passes, which were once $45 per rider, will also be lower, now set at $22.50.
"The new rates were recommended in a 'Fare Equity Study' conducted by MCDOT and released in October," MCDOT said per a press release. "The study recommended the balance of benefits and costs, with benefits primarily accruing to the populations the County is hoping to support."
For residents who have a disability, are 65 years of age and older, or are in high school, county bus fares will remain free. Those who qualify must have a specialized SmartTrip card, which can be found at the MCDOT Mobile Commuter Store, the Silver Spring TRiPS Commuter Store, any county library or the Montgomery County Division of Treasury in Rockville. 
Additionally, those who use a Ride On bus service can also do so for free if they are transferring from a Metro train or bus. However, the fare will still be in place for commuters switching onto a Metro bus. 
For additional information, residents can visit the official Ride On bus website. For community members that commute often, there is an option to subscribe for email alerts by visiting this website, or text alerts by texting MONTGOMERY RIDEON to 468311.
After 28 months of temporarily suspending fare collection due to the COVID-19 health crisis, MCDOT's @RideOnMCT bus system will resume fare collection on Monday, Aug. 1 on ALL bus routes. The new fare will be set at $1.
Details ▶️https://t.co/iWsGFgdEbt@MontgomeryCoMD @311MC311 pic.twitter.com/UhBw485jOx

— MCDOT (@MCDOTNow) July 11, 2022