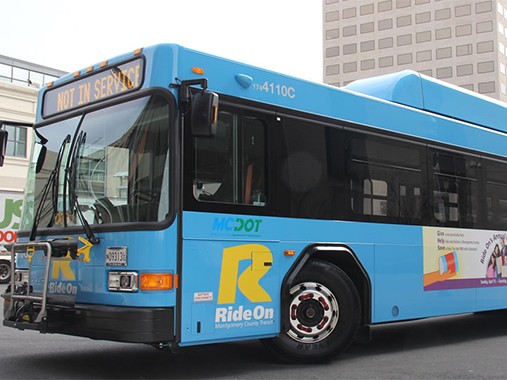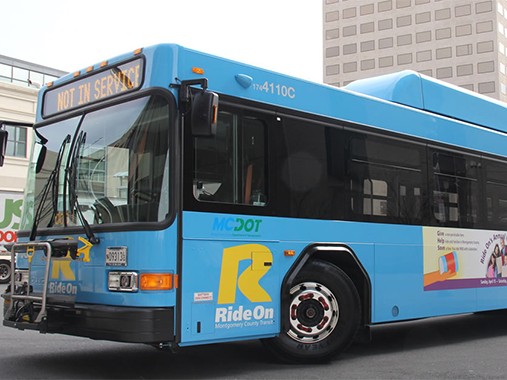 The Montgomery County Department of Transportation will receive more than $30 million from the federal and state government to support Ride On bus program during the COVID-19 health crisis.
The federal Coronavirus Aid, Relief and Economic Security Act ("CARES Act") designated $25 billion to support states' public transit in light of closures and profit loses stemming from the COVID-19 health crisis. Montgomery County received over $28 million from the CARES Act funding as part of the Washington D.C. area.
The funding will cover the cost of lost revenue from the elimination of fare collection since March 13. Fare collection was eliminated to limit personal interaction, according to a press release from the county. The funding also covers the cost of hazard pay for bus drivers, and increased cleaning measures to keep passengers and staff safe.
"These funds will help mitigate the financial impact that COVID-19 has had on our transit system," said County Executive Marc Elrich in a statemen. "I want to thank the dedicated employees of the Montgomery County Department of Transportation for leading our efforts to obtain this aid. I also want to thank our regional partners, including the leadership of WMATA and the Maryland Department of Transportation for their work to distribute aid to affected jurisdictions in an equitable fashion."
The other $2 million will come from the Maryland Department of Transportation's Maryland Transit Administration, bringing the total funding to $30 million.
MCDOT has worked to meet the needs of essential travel while also balancing needs for social distancing measures. MCDOT has also focused on serving Equity Emphasis Areas, areas with higher than average concentration of low-income,
minority populations, or both. Equity Emphasis Areas are often in higher need of access to public transit, and include areas in Rockville, Takoma Park, and Gaithersburg.
"Ride On continues to make adjustments as the situation evolves," said MCDOT Division of Transit Chief Dan Hibbert in a press release. "Some bus routes that were cut at the start of our response have been added back because of identified community needs. We have increased midday service on routes that include hospitals and we continue to shift resources to routes that need more service to maintain safe levels of social distancing."