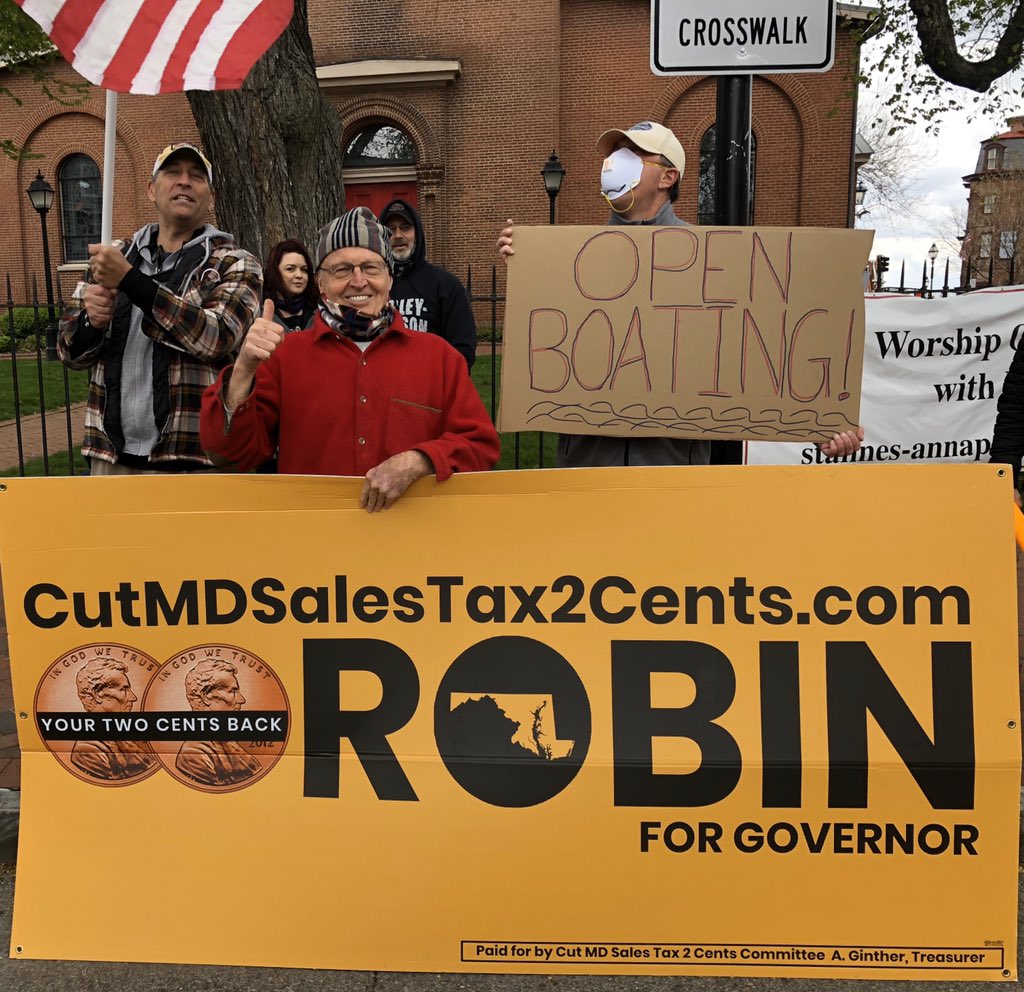 Perennial political candidate Robin Ficker, a Republican, is running for governor in yet another attempt to roll back taxes for Maryland residents.
His campaign slogan is "Cut Maryland Sales Tax Two Cents." He carried a large banner with those words on it this weekend when he demonstrated at the Maryland State House in Annapolis urging Gov. Larry Hogan to open up the state during the pandemic.
Ficker, who was the driving force behind term limits for county council members, said he has not yet filed to run, but he has begun the process and chosen his committee.
The 77-year-old life-long county resident most recently unsuccessfully ran for county executive, coming in third place to top voter Marc Elrich and the unaffiliated Nancy Floreen.
Ficker currently is behind an attempt to limit the county from raising property taxes past the rate of inflation. The Board of Elections determined Ficker has collected enough signatures for the questions to appear on the November 2020 ballot.
In this latest attempt to gain a political seat, Ficker has set his eyes on the 2022 gubernatorial race. Hogan is term-limited and cannot seek a third term.
In a telephone interview Sunday, Ficker declared that by cutting the sales tax by two cents, he will be giving $1.7 billion back to Marylanders. That will bring more businesses to the state, which will help offset the loss revenue stream, he said.
New business brings in new residents and money for education, he said, adding, if elected, he would be "very business friendly."
"My program is to give everyone a tax cut every day," he said.
Another reason he is running is because of what he called a lack of county residents in positions of political authority, from governor to the speaker of the House of Delegates.
"I am disappointed in Montgomery County's officials not taking a lead," he said. "We have the largest jurisdiction."
With a county resident as governor, "Maybe we could get our gridlocked transportation fixed," he said.
He intends to ask for matching funds, as he did when he ran for county executive.
Ficker is an attorney, specializing in traffic and civil rights law, and previously served in the House of Delegates from 1970 to 1983. He has won several landmark cases but also has been reprimanded more than once by the Attorney Grievance Commission. The AGC also once suspended his license.
When asked why he believes he will win this time, Ficker pointed to the Washington Nationals' World Series win, noting, "The other seasons weren't really relevant."