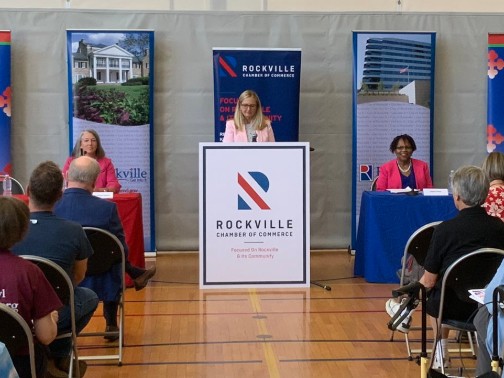 Candidates in the 2019 city of Rockville election participated in a debate during a forum presented by the Rockville Chamber of Commerce on Wednesday.
Rockville voters will decide between two candidates for Mayor, and 13 candidates for four Council seats in the first-ever Vote by Mail city election. Rockville City Hall will be the only vote center on November 5 for residents.
During the debate forum, community members had a chance to hear from the candidates and their goals which included pedestrian safety, housing affordability, and education.
Who are the candidates: 
For Mayor: 
Bridget Donnell Newton
Virginia D. Onley
For Four Council Seats:
Monique Ashton
Cynthia Cotte Griffiths
Beryl L. Feinberg
Richard Gottfried
James Hedrick
Kuan Lee
Charles Littlefield
Donald A. Masters
Brigitta Mullican
David Myles
Mathew Perkins
Mark Pierzhala
Suzan Pitman