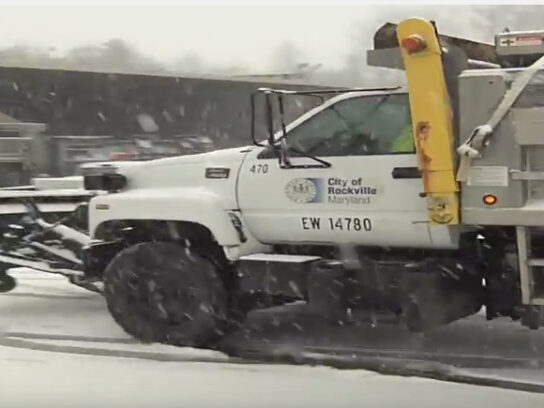 Parking Restrictions Take Effect at 10 p.m. Wednesday
The City of Rockville has declared a snow emergency that begins Wednesday, Feb. 17 that begins at 10 p.m.
The emergency declaration requires all vehicles must be removed from roads within the city, including neighborhood streets by 10 p.m. Wednesday.
In order for city crews to safely and efficiently clear snow from streets, all vehicles should be parked in garages and driveways whenever possible. If this is not possible, cars should be parked on the even-numbered side of the street. In courts or cul-de-sacs, parking is allowed only on the left side of the streets as one enters the cul-de-sac or court. Do not park in the end of the court or cul-de-sac.
Four city-owned parking lots are open for residents to park their cars at the following locations:
Rockville Civic Center main mansion lot, 603 Edmonston Drive.
Woodley Gardens Park, 900 Nelson St.
Welsh Park (Mannakee Street side only), at the corner of Martins Lane and Mannakee Street.
Elwood Smith Community Center, 601 Harrington Road.
Cars illegally parked may be towed and/or ticketed.
Be Prepared
The City of Rockville is urging residents to be patient and prepare for the storm. Operations and normal service times may be impacted due to health precautions taken during the COVID-19 pandemic,
Heavy snowfall may require crews to make multiple passes to ensure roads are passable. Crews will respond as quickly and safely as possible.
Rockville requires that snow be removed from sidewalks, steps, driveways, parking spaces and similar paved area for public use within 24 hours after a snowfall of up to three inches, within 48 hours after a snowfall of three to 10 inches, and within 72 hours after a snowfall of more than 10 inches.
Residents are asked to remove snow from around fire hydrants so that fire crews will have easier access to the hydrants in an emergency. Ice and snow should also be cleared from around storm drains, and the city asks residents to avoid shoveling snow into the street when possible.
Residents also are encouraged to check on older neighbors who may not be able to clear snow and may need some help. Rockville seniors in need of snow removal assistance may request help by calling 240.314.8819 or 240.314.8810.
To report a power outage, call Pepco at 1.877.737-2662 or visit www.pepco.com. To report a tree blocking a roadway or driveway, call 240.314.8700. For a tree touching a power line, call Pepco at 1.877.737.2662. Be sure to stay clear of downed lines and trees touching power lines.
For emergencies, call 911. To report non-emergency concerns to the Rockville City Police Department, call 240.314.8900.
Updates on Rockville's storm response, city programs and facilities and other information will also be available on Rockville 11 (channel 11 on county cable systems) and on the city's Facebook page (City of Rockville, City Hall) and Twitter account (@Rockville411). To receive updates on mobile devices or via email, sign up for Alert Rockville at www.rockvillemd.gov/connections.