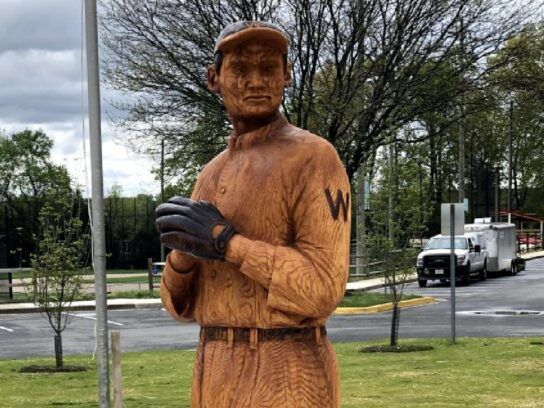 A statue of Walter Johnson, one of the most accomplished major league pitchers of all time, now stands as a centerpiece to Dogwood Park in Rockville in a replica baseball field that represents his more than two-decade career on the mound with the Washington Senators.
According to a press release from the City of Rockville, the statue was created by Nickelsville, Virginia-based artist Kris Connors. It took about five weeks to finish. An interpretive sign with details about Johnson's life and career will be installed at the park in the next few weeks. The Rockville Baseball Association contributed half the funds for creation of the statue and its installation.
The legendary pitcher, Walter "Big Train" Johnson, is winding up to throw at Dogwood Park. The latest piece of public art in #Rockville honors the legacy of one of the Beautiful Game's most iconic players. https://t.co/GweCzdmENS pic.twitter.com/qGqT5Gbe05

— City of Rockville (@Rockville411) May 5, 2020
Born in Humbolt, Kansas, Johnson was 19 when he began his 21-year Hall of Fame career with the Senators. Johnson – known as "Big Train" due to the speed and accuracy of his pitches – played for the Senators from 1907-1927 winning 417 games leading them to their only World Series title in 1924.
While playing for the Senators, Johnson lived in Bethesda. After he retired, he bought a farm in Germantown and served as a Montgomery County commissioner until his death in 1946. He is buried at the Rockville Cemetery on Baltimore Road with his wife, Hazel Lee Johnson.
Johnson was part of the inaugural class of the Baseball Hall of Fame in 1936. In 2019, he was elected posthumously into the Montgomery County Sports Hall of Fame.
Walter Johnson High School in Bethesda was named after him as was The Bethesda Big Train, a collegiate summer baseball team based in Bethesda.