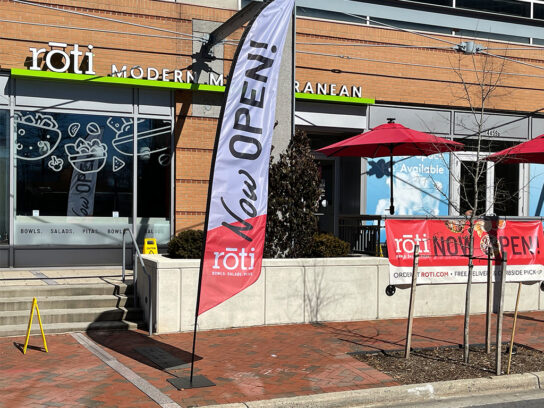 Rōti Modern Mediterranean opened a new location in Chevy Chase this week.
The fast-casual restaurant, which is located at 4461 Willard Avenue, features Mediterranean food with sustainably sourced ingredients.
https://www.instagram.com/p/CL92kZcBNyv/
"We can't wait for the Chevy Chase community to experience Rōti," Nico Nieto, Rōti's head of marketing, said in a statement. "The way we think about food is simple: serve something delicious without sacrificing health. That's what we're all about– no need to compromise."
As the pandemic continues, Rōti Modern Mediterranean will operate under current local and state COVID-19 guidelines of mandatory face coverings and maintaining social distancing. Additional measures include regular sanitation, employee training, and contact-free pick-up and delivery.
Rōti Modern Mediterranean is headquartered in Chicago with 42 locations nationally, including Washington D.C., New York City, Dallas, Houston, and Minneapolis.
https://www.instagram.com/p/CH07Fd2Fjyx/