Twin Valley Distilleries in Rockville created a special label for its bourbon that will be featured at the 41st Sandy Spring Museum Strawberry Festival on June 3 and June 4.
The event on Bentley Road features music, games, a petting zoo, pony rides, crafts, strawberry shortcake and 1,000 quarts of locally grown strawberries. Money raised at the two-day event will support the museum's community-generated programs, according to Allison Weiss, executive director of the museum.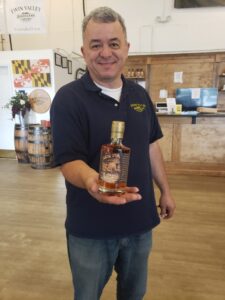 Edgardo Zuniga, who founded the distillery 10 years ago, called special bottles of his custom-made bourbon and decorated them with a special label just for the museum's event.
According to the label, the ingredients were mashed, distilled and bottled "for Sandy Spring Museum." The label also explains that the name Sandy Spring "derives from a natural spring discovered over 320 years ago less than three-quarters of a mile from where the Museum sits today."
The grapes the distillery uses are grown in Poolesville, and the rye and barley also comes from the county, Zuniga said.
Click here for tickets.