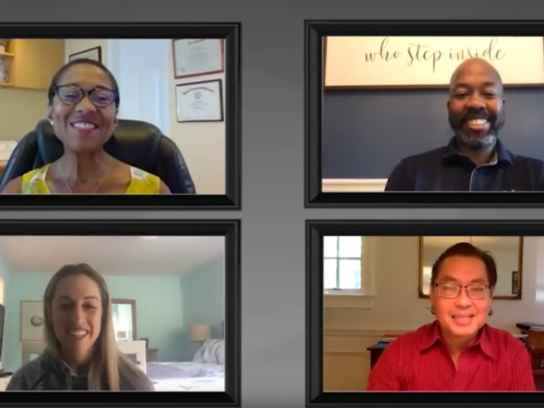 A panel of business owners joined Kelly Leonard for Montgomery Community Media's July's episode of Small Business Network at Home.  The series of monthly morning sessions facilitated by Leonard addresses topics of interest to small business owners in Montgomery County.
July's topic was "Reviving Your Business Pitch in a New Economy." The panel featured Jamie Ratner, Arthur Toole, and Tien Wong.
Watch a video of their discussion recorded via Zoom here:
Jamie Ratner is the founder and CEO of Cerfifikid, a website that provides family-friendly deals on experiences, products, and services.
Arthur Toole is the co-founder and CEO of Meg Relief, a product that provides joint and muscle relief without drugs.
Tien Wong is CEO of Opus 8 Inc, a Chevy Chase private investment and advisory firm. He is also the founder and host of The Big Idea CONNECTpreneur Forum which is a community of over 12,000 CESs, investors, entrepreneurs, venture capitalists, angels, and business leaders in the Mid-Atlantic Region.
The Small Business Networking Series usually takes place at Montgomery Community Media (MCM) studios in Rockville.
About Montgomery Community Media's Small Business Network Series
The series of monthly morning sessions address topics of interest to small business owners in Montgomery County.
Moreover, the series offers the opportunity to invigorate and innovate businesses with insight and information from regional business leaders' presentations and question and answer sessions. Indeed, seminars and networking can enhance the success of local businesses in Montgomery County.
Montgomery Community Media is located at 7548 Standish Place in Rockville, walking distance from the Shady Grove Metro station. Free parking is available.
You can view previous speakers and events, here.
SBN is Brought To You By