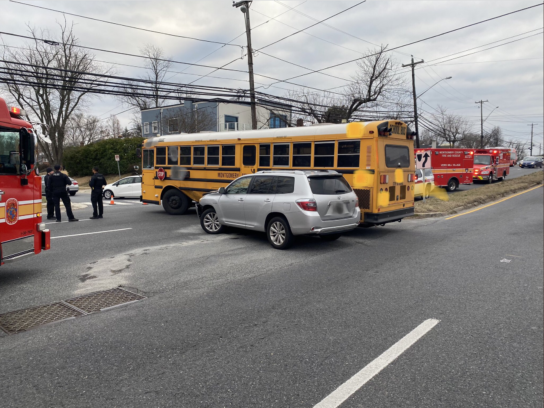 An occupied school bus and SUV collided Monday afternoon, leaving at least three with minor injuries, according to Montgomery County Fire and Rescue (MCFRS) Spokesperson Pete Piringer.
MCFRS evacuated the bus and EMS personnel examined all passengers, Piringer added. Students who were not injured moved to a different bus and continued their ride home. 
The crash occurred at the intersection of Randolph Road and Goodhill Road in Glenmont, closing Randolph Road in both directions Monday evening.
(Photo courtesy MCFRS Spokesperson Pete Piringer @mcfrsPIO)
Update – Randolph Road and Goodhill Road, Glenmont, collision involving SUV & school bus, School bus was occupied, @MCFRS_EMIHS evaluating all passenger, 3 or 4 patients with minor, NLT injuries, some lanes blocked https://t.co/JA195G8Wbo

— Pete Piringer (@mcfrsPIO) February 6, 2023
Update – Randolph Road and Goodhill Road, collision, some lanes blocked, @mcfrs A721, A707, PAT718, E718, EMS704, BC704 on scene NOTE: Randolph Rd CLOSED/BLOCKED in both directions, uninjured passengers being transferred to another bus & continuing on ride home https://t.co/h7rsDwXNAP pic.twitter.com/DJVxSHCGyW

— Pete Piringer (@mcfrsPIO) February 6, 2023