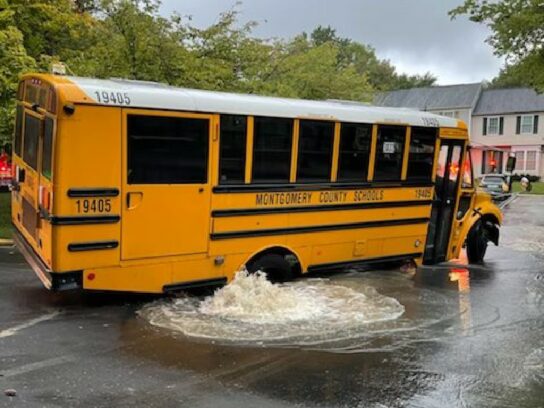 Several students were safely evacuated after a school bus was stuck in a small "sinkhole" in Layhill, County Fire and Rescue Service (MCFRS) Chief Spokesperson Pete Piringer shared.
One person was evaluated but there were no injuries, he said. MCFRS responded to Leclair Court around 7 a.m. Wednesday morning and Piringer said the "sinkhole" was likely caused by a water main break. He posted a video to Twitter showing a Montgomery County Public Schools (MCPS) school bus standing tilted over a small area of broken roadway that was gushing water.
Close to 11 a.m., WSSC Water said the break was repaired and water service was restored.
(~7a) Leclair Ct near Gunston Ct off Wagon Way, water main break, no injuries, several students safely evacuated/off loaded, no injuries pic.twitter.com/qvXQ2wFajL

— Pete Piringer (@mcfrsPIO) September 22, 2021