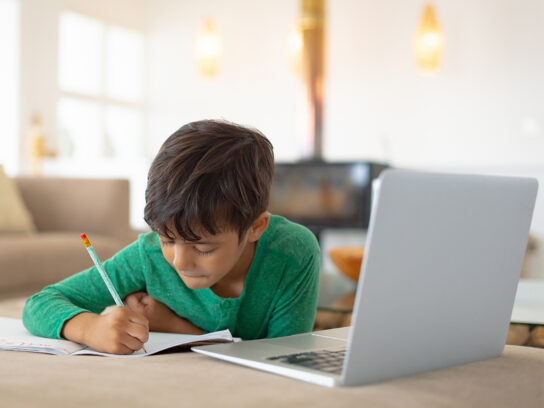 Montgomery County councilmembers used the "thousands" of questions and concerns they have received from residents to question Montgomery County Public School officials about the specifics of reopening schools.
"All of us have received thousands of constituent correspondence," noted Councilmember Gabe Albornoz.
Ventilation, vaccines, mental health, quarantining and staffing were just some of the many topics discussed during the two-hour meeting Thursday.
MCPS Superintendent Jack Smith explained that his staff has been working on a two-and-a-half year plan that began March 2020 when the schools were first shuttered. The goal is to reopen the schools and have any gaps in learning dealt with by the end of that period, he said.
MCPS intends to bring back special education students and those taking career and technical programs beginning March 1, followed by kindergarten through third graders two weeks later, leading up to seventh and tenth graders returning by the end of April. MCPS expects about 64,600 students to return to the classroom while 95,800 students will continue to learn virtually, according to Janet Wilson, chief of Teaching, Learning, and Schools.
According to Smith, more students of color have opted to remain learning virtually than other groups. The majority of immigrant families did not respond to a survey asking their preference, but when contacted individually, about half asked to return to school, Wilson said.
The students will return to a school that is much different than they left. There will be about 10 children in each room. Younger students will remain in their classroom most of the day. Middle and high school students will move from class to class, but less frequently than before and in a more-controlled path.
Ventilation has been improved, and every classroom has been checked to make sure it met necessary standards, explained Seth Adams, director of facilities management. Bus windows will be kept open for improved ventilation.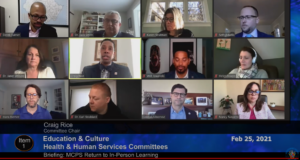 About $5 million was spent to purchase surveillance testing for COVID-19, which will be done in individuals classrooms. Families will be provided with digital thermometers to be used before sending off their children each morning.
Despite these precautions, Montgomery County Health Officer Dr. Travis Gayles acknowledged, "We are likely to see cases pop us." When the non-public schools opened, cases arose that mostly were traced back to family gatherings or traveling sports events, he said.
Officials would not say exactly who they plan to quarantine should a teacher or student test positive. "It would entirely depend on the situation," Gayles said. According to Albornoz, while families will be informed when necessary that someone tested positive, the name of the person will not be released for privacy reasons.
Staffing will increase in each building, some to monitor health rooms but most to help students proceed from one place to another, including the bathroom, bus and lunch room. Many of the new staffers are recently-retired teachers and December graduates, Wilson said.
"We won't have open doors. It will be a closed environment," Smith said.
Today I'll be attending a briefing with leaders from Montgomery County Public Schools about their plan to reopen.

What questions would you like me to ask?

— Evan Glass (@EvanMGlass) February 25, 2021