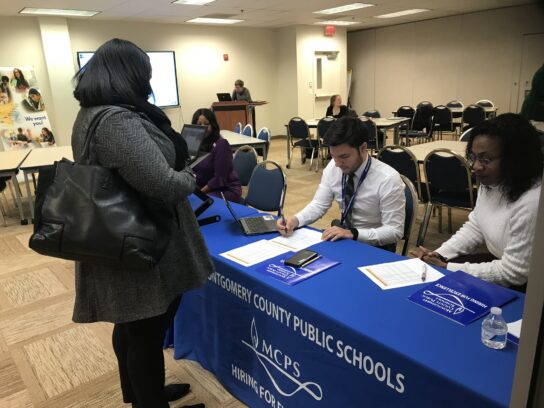 Montgomery County Public Schools (MCPS) is holding three job fairs in March for teachers, substitute teachers and supporting services positions.
MCPS is hiring teachers for all subjects at all grades. Supporting services has high demand for: paraeducators, building services, security, clerical, cafeteria staff and bus operators.
Interested applicants should visit MCPS Careers webpage online to create a profile, upload a resume and credentials, and submit an application.
Upcoming job fairs include:
Teachers
Saturday, March 14
9 a.m.–2 p.m.
15 W. Gude Dr., 3rd floor, Rockville
Supporting Services Positions
Friday, March 27
9–11 a.m.
45 W. Gude Dr., Maple Room, Rockville
Substitute Teachers
Monday, March 30
9 a.m.–3 p.m.
45 W. Gude Dr., Maple Room, Rockville
Additional job fairs may be found online, here. A list of current job openings and job descriptions may be found online.