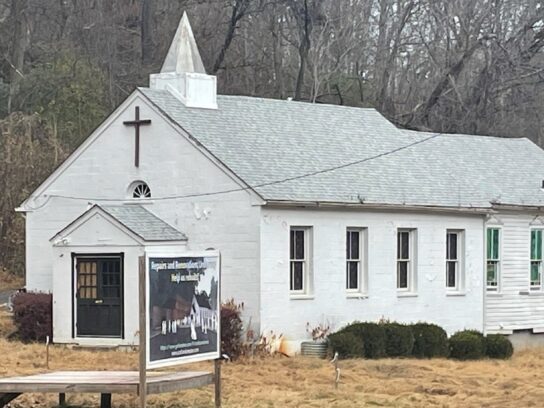 Work has begun on a project to ensure the Scotland AME Zion Church can withstand heavy rainstorms while also breathing life into an African American community that thrived a century ago.
The wood frame church on Seven Locks Road in Potomac was built by hand in 1924 by Black congregants who formed a strong community there. They had their own homes and schools, prospering even without the use of public water and sewer.
But an extreme rainstorm in the summer of 2019 destroyed the structure right to the foundation, doing damage once again to the Scotland Community. The church is registered as a State Historic Site by the Maryland Historical Trust and is the only historic building to survive in the Scotland community.
Since the flooding, church and community members have created the Second Century Project to restore the church, regrade the area to mitigate the risk from future flooding and then add a new worship space that will seat 120 people.
The capital campaign committee is cochaired by former Executive Ike Leggett and Joyce Siegel, who has spent years helping the residents of the Scotland community. There is a GoFundMe page for donations.
LaTisha Gasaway-Paul is the great, great, granddaughter of William Dove, who founded the Scotland community. He acquired 36 acres for $210 in the 1860s. She described Scotland AME Zion as "a little white church on the side of the road," adding that it is "deep rooted in history."
The people who frequented this church "come from segregation. We come from abandonment," she said during a webinar Feb. 5 entitled, "Interfaith Opportunities: How the Flood at AME Zion Church is Bringing Us Together."
In the 1960, the Scotland community faced problems that led to its deterioration. Improper deeds and other issues created a way for much of its land to be purchased and turned into Cabin John Regional Park, Cabin John Shopping Center and townhouses.
By 1964, the 80-year-old community had a mere 225 residents. According to Gasaway-Paul, many of those whose land was sold faced homelessness and foster care. "There was no Plan A or Plan B" for the residents, she said, adding this is what happens when people are not looked upon as equals.
A nearby neighbor, Siegel, became involved when she learned there were children living near her who didn't have running water. Siegel, whose children attended Fernwood Elementary School at the time, began tutoring children and got others to assist.
"We have come so far, but we have so far to go. What I've learned, being partnered with several people from the interfaith community, is that there is power when the people come together," said Gasaway-Paul.
That includes Rabbi Evan Krame of the Jewish Studio, who spoke at the webinar that was held virtually and in-person at Bradley Hills Presbyterian Church in Bethesda. He got involved when he learned that he had been living just a few blocks from the church for almost 40 years.
It took his stopping one day to see more than just the sign that graces Seven Locks Road to comprehend the area's past, he said. "You cannot love your neighbor unless you know your neighbor."
To Krame, the Scotland community lost a lot "not because it was fair, not because it was right," but "because of avarice and greed."
Said Gasaway-Paul, "Scotland is where my people are from. It is a place we call home."
Related Post
National Philharmonic Concert Raises Funds for Scotland AME Zion Church