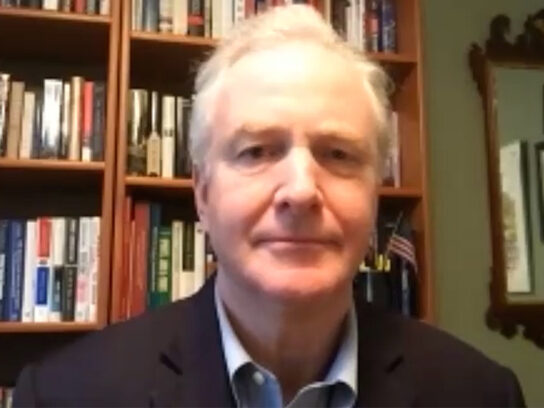 U.S. Sen. Chris Van Hollen spent one hour Thursday updating Montgomery County councilmembers on what federal legislation has been passed and what is being considered now, including voting rights and COVID-19 recovery efforts for schools, businesses, individuals and communities.
This is an annual meeting used to update the council on local and national issues and his priorities.
He expected a Wednesday night on the Senate floor to allow debate on the voting rights act and to end the filibuster and said he was returning to the Senate floor right after his meeting with the county council. He said he expected both measures to fail.
"We think it is important, win or lose or draw, to have a vote," Van Hollen said of his fellow Democrats.
He called a national voting rights law necessary. 19 states already have passed laws "to make it harder for people to vote, especially people of color," Van Hollen said.
Also, he noted, "Voting lines are seven, eight hours long. It is just unacceptable to see barriers put up to voting in some communities" but not others.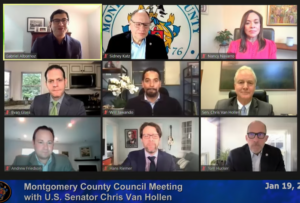 Van Hollen called it wrong for 41 senators out of 100 to be able to block debate on a bill. There is nothing in the U.S. Constitution that spells out that the framers wanted a super majority to vote on such matters, he said.
"I am glad you are tackling the filibuster, something that has held back progress," Councilmember Hans Riemer said. He noted that ending the filibuster is risky as it could come back to hurt the Democrats when they hold fewer than 50 seats in the future.
Van Hollen, who called the councilmembers "great partners," pointed out that the federal government has provided funding and assistance for COVID-19 vaccines and tests as well as for Metro, schools and child care.
The pandemic has shown there is great inequality in this country, and the federal government is working to provide funding to lessen the gap, he noted.
Councilmember Andrew Friedson questioned Van Hollen on what could be done to end hatred, pointing specifically to the recent hostage incident at a Texas synagogue.
"Immediately speak out, call it out whereever we see it. We just need to be on full alert and vigilent," Van Hollen said. "We've got to address hate in all its forms."
Councilmember Gabe Albornoz thanked Van Hollen for his time, adding, "We know you are fighting the good fight."