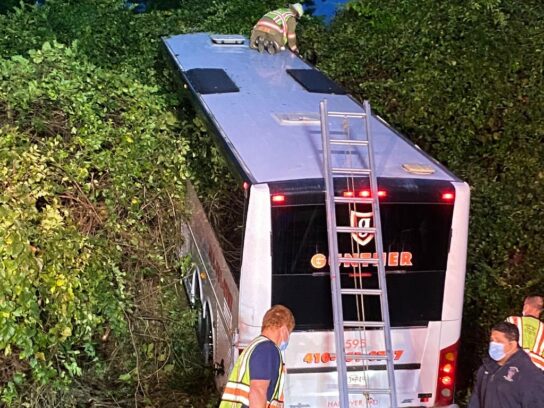 Chief spokesperson for the Montgomery County Fire & Rescue Service Pete Piringer reported two separate traffic incidents involving buses early Wednesday.
The first incident occurred around 6 a.m. near the Shady Grove Metro. A tour bus ran off the road and into some heavy brush, blocking the right-of-way for CSX Railroad track #2 and damaging the track bed. The driver was trapped inside the vehicle until being extricated and evaluated for non-life-threatening injuries at approximately 7 a.m. No passengers were onboard at the time of the incident.
UPDATE – @mcfrs on scene IAO Shady Grove Metro – CSX RR Track #2 is being shut down as the vehicle has impinged on the RR track bed.

— Pete Piringer (@mcfrsPIO) September 29, 2021
The second incident occurred around 7 a.m. near the Rockville Metro. Several people were present during a bus collision and evaluated for non-life-threatening injuries.
Update – 1 Church Street – IAO Rockville METRO – collision involving bus – several injured – @mcfrs A703, M703, M723, PE703, and EMS704 on scene, @MCFRS_EMIHS evaluating several patients https://t.co/Fiwis2ESME

— Pete Piringer (@mcfrsPIO) September 29, 2021