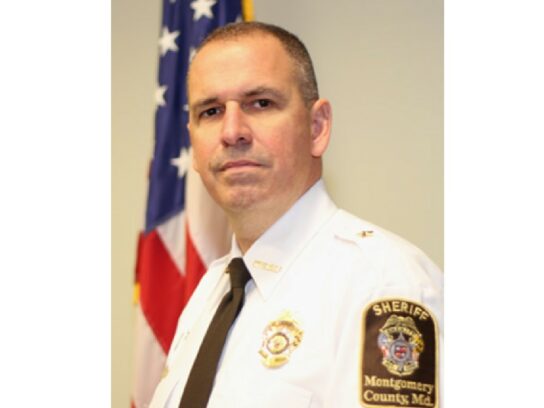 After serving almost four decades in the Montgomery County Sheriff's Office, Sheriff Darren Popkin has announced he is not seeking reelection after his third term expires.
"This is a very demanding job. I have worked 10, 12, 14 hours seven days a week," he told MyMCM Media. Now that he is a proud first-time grandparent, he wants to spend more time with his family. However, he stressed, he is not retiring. "Whatever my next chapter will be, it certainly will not have the demands" of being sheriff in a county of more than one million residents.
"I am going out happy and not due to some sort of issue or controversy," he said.
Popkin rose to his current position 12 years ago after spending 12 years as the second in command. Now that he is not seeking reelection, Popkin's Deputy Sheriff Maxell Uy plans to run to replace him. Uy has held that position for 12 years and has worked in the sheriff's office for 27 years. He also served in the U.S. Army.
On his Facebook page, Uy explained that as the current chief deputy sheriff, "I oversee the daily operations." He added, "I have gained significant experience serving in nearly every division with the Sheriff's Office."
Popkin said he will back Uy, noting, "I know he agrees with a lot of my values, the hard work and efforts." Popkin said he has been mentoring Uy for many years.
Stepping down "was a very difficult decision. It's hard to leave when you like something," said the lifelong Montgomery County resident who currently lives in Olney. His favorite part of the job is working with the community, he noted.
In looking back over his 38 years, Popkin pointed to two cases he worked on that he believes changed the way children in Montgomery County are raised. He referred to the 1975 disappearance of sisters Katherine and Sheila Lyon. It wasn't until 2017 that Lloyd Welch pleaded guilty to two counts of first degree murder in the abduction and killing of the sisters.
The other case concerned the murder of William Bradford Bishop Jr.'s wife, mother and three young sons in 1976. He has never been located and would be in his eighties now. Popkin said "we know who did it" but have not been able to locate him. Since 1990, Popkin and has staff have been searching for him. Popkin said he would love to capture Bishop to give his deceased family members a voice.
Combined, these cases "changed the way that parents allowed their kids to play" outside and unsupervised, Popkin said.
During his years leading the sheriff's department, Popkin is particularly proud of the Family Justice Center of Montgomery County in Rockville. In the 11 years it has been open, 15,000 domestic abuse victims have used services there, he said.
Popkin is a long-time supporter of considering a person's mental health when dealing with them. "A high number" of the people the sheriff's department is called about "experience some form of mental health or anxiety," he said. "It really is a high number.
That is why, he explained, he actively worked to have Maryland's Red Flag Law passed, which allows law enforcement to take away weapons for a short time from someone experiencing mental issues. He believes that saved people from dying by suicide.
Working at the sheriff's office "has been been an incredible ride," he said.