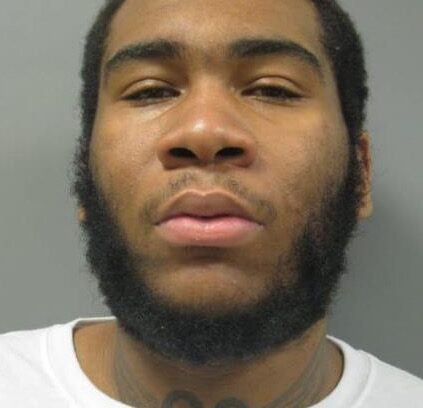 A man convicted of a 2019 Silver Spring bank robbery was sentenced to 10 years in prison plus five years of supervised probation upon release on Friday, Nov. 4, in the Circuit Court for Montgomery County.
Judge John Maloney issued the sentence a week after a jury found defendant Jhasir Devaux, 25, guilty on one count of robbery.
The incident occurred on Aug. 7, 2019, when Devaux entered a Sandy Spring Bank, located at 14241 Layhill Road in Silver Spring, and passed a note to the bank teller demanding money.
He entered the bank shortly before 1 p.m., wearing a dark blue long sleeve hooded sweatshirt, orange construction vest, yellow construction hard hat, black sunglasses and a white hospital mask, according to a Montgomery County Police Department (MCPD) press release.
MCPD released pictures from the incident, showing Devaux standing in front of the victim's bank teller window.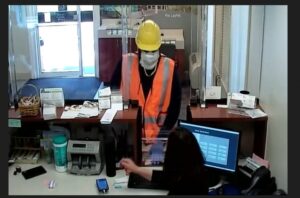 The bank teller said that Devaux passed her a folded piece of paper, advising that she withdraw money from a listed account number, according to MCPD. The note, pictured below, said to give him all the money, to not ring alarms and to not include any dye packs.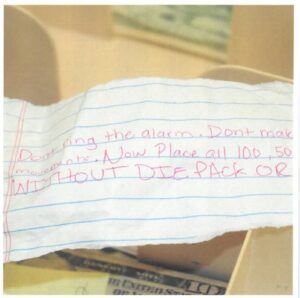 Devaux ultimately made off with approximately $4,780 from the bank teller's cash drawer. 
The subsequent MCPD investigation revealed that Devaux had robbed the same bank on April 9, 2016, in a similar note-passing style. Following the arrest for the previous robbery, he pleaded guilty and served jail time. 
Devaux used to live on Catamount Court in Silver Spring, where his grandmother currently resides. Catamount Court intersects with Catoctin Drive, where an employee witness last saw the suspect running towards after the robbery on August 7, 2019 MCPD reported. This employee also witnessed the 2016 bank robbery.
Detectives obtained call records from Devaux's cell phone that showed activity near the Silver Spring Bank around the time of the robbery. Additionally, forensic technologists identified Devaux's fingerprints on the bank teller note. 
Assistant State's Attorneys Jennifer Harrison and Tim D'Elia prosecuted the case, where Devaux faced a maximum sentence of 15 years in prison.