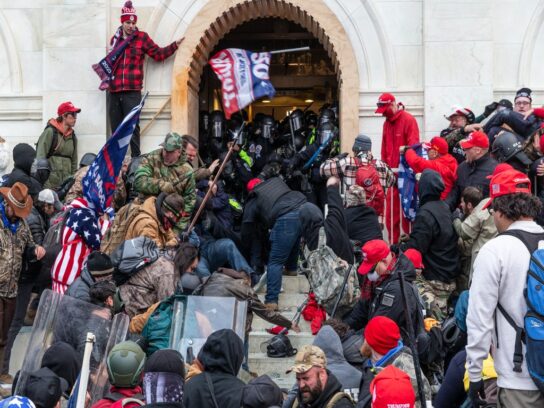 A Silver Spring man, Joshua Pruitt, was sentenced to more than four years in prison by a DC Federal court Monday. Pruitt, 40, was convicted for his participation in the storming of the U.S. Capitol on January 6, 2021.
Pruitt, who worked as a bartender and personal trainer, was in the process of joining the Proud Boys when he illegally set foot on Capitol grounds around 2:10 p.m.  Eventually he made his way toward the Senate Subway where he encountered the security detail for Majority Leader Chuck Schumer. Schumer and his group spotted Pruitt and headed in another direction.
Later on the evening of January 6th, Pruitt was arrested and taken into custody for violating a curfew in effect in D.C. He was formally charged for violating federal laws the following day.
In addition to his 55 month sentence, Pruitt will be placed on three years of supervised release. He will also have to pay a $2000 fine for restitution.
Pruitt is among more than 850 rioters who have been charged in the breach of the Capitol on January 6th.