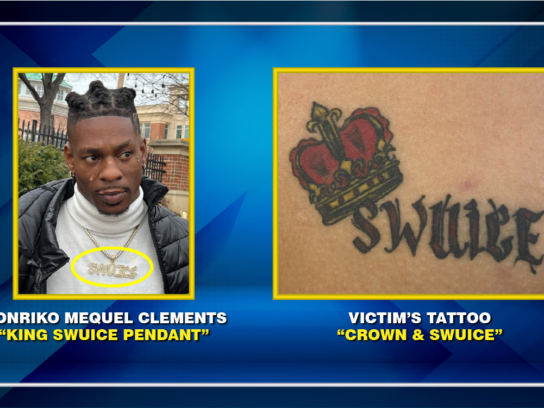 Monriko Mequel Clements of Silver Spring, who also is known as the rapper King Swuice, was charged with human trafficking and receiving money from proceeds of prostitution.
Clements, 31, allegedly met a 23-year-old woman through the Tinder app in the Baltimore area and had a relationship with her. When she lost her job at Chipotle and grew concerned that she didn't have enough money for herself and children, he forced her to become a prostitute, according to his arrest warrant.
After about eight months of being forced to have numerous sex dates and also being beaten, the woman leapt from a moving car to get away, according to Miami-Dade County State Attorney Katherine Fernandez Rundle.
"She jumped out of a moving car, risking injury or death, because she could not think of a better way to avoid the beating that she alleged Clements' was giving her, because she did not want to engage in prostitution anymore," said Rundle during a press conference Thursday.
A passerby saw the woman and observed Clements trying to get her back in the car. Police then arrived at the scene, on a state road known as Dolphin Highway.
"The victim stated that the subject beat her daily, degraded her and threatened her, stating that he would kill her if she did not do what he told her to do," it states in the arrest warrant. During this time, the victim said she was given cocaine and the synthetic drug Molly, which she said she used to self-medicate.
On Nov. 14, she contacted her mother and asked her to call the police. Her mother contacted the Maryland State police, who then contacted police in Florida.
Police arrived at a local hotel where they were staying, at which time the victim told police Clements was not hitting her and that they only were arguing. When police left the motel, the two got into the rental car, where he threatened to kill her for contacting her mother, according to the warrant.
When they drove, Clements took her cell phone and threw it in the back seat, as she beat her. At this point, she jumped from the car, according to the arrest warrant.
She told police she got a tattoo of a crown and the word KSwuice by her upper left breast, which was a form of ownership. She estimated that she made more than $20,000 in sex dates, all of which he kept.
Clements voluntarily waived extradition to Howard County and his arraignment is set for Jan. 18, 2023.
Press Conference today 2:30 PM in my office to announce the arrest & extradition of an alleged human trafficker who fled to another state after @FHPMiami, @fdlepio & my Human Trafficking Task Force intervened to rescue the victim & proceeded to file criminal charges. pic.twitter.com/iFCR5ZXWB5

— Kathy Rundle (@KathyFndzRundle) December 29, 2022