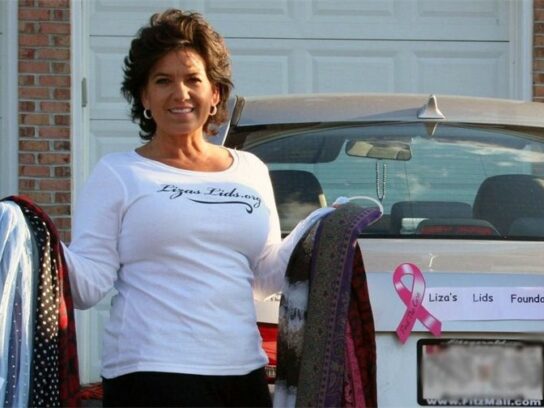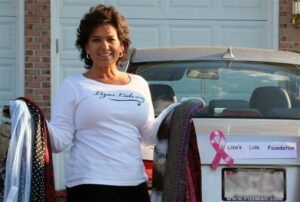 Going in and out of cancer treatments for almost 10 years, Silver Spring resident Liza Takounakis understands not just the pain and grief that comes with her breast and lung cancer diagnoses, but also the anguish of losing her hair.
That is why, only about six months after her initial breast cancer diagnosis in 2011, she started Liza's Lids, a nonprofit that donates one dozen bandanas, scarves, hats and wigs to 13 hospitals in Maryland monthly. During the colder months, her organization also delivers warm hats. "That's over 100 donations a month," she said proudly.
October is Breast Cancer Awareness Month, and it has been a particularly hard year for Liza's Lids due to the global pandemic. Normal fundraising events at bazaars and restaurants have come to a screeching halt. But since March, her team hasn't been able to conduct its monthly fundraisers to raise money to purchase the head coverings due to social distancing rules.
Takounakis and her team of nine women, most of whom attended Wheaton High School together, are used to not being able to see the grateful faces of the recipients of their head covering donations due to privacy rules.
Still, thank you notes and the kind words from recipients who have attended their fundraisers are enough, especially when she hears their stories, she said.
Takounakis, 52, currently is in Stage Four Metastatic Breast Cancer, a disease she likens to "the devil. It creeps up on you."
Through all her treatments, Takounakis remembers the kind people who helped her go on, who gave her a warm blanket and even lip balm and hand lotion. She chose to give out head coverings, she said, because they enable a person to have dignity and self-confidence throughout the months, and even years, it takes for hair to grow back.
"Losing my hair was definitely worse than losing my breasts," she said.