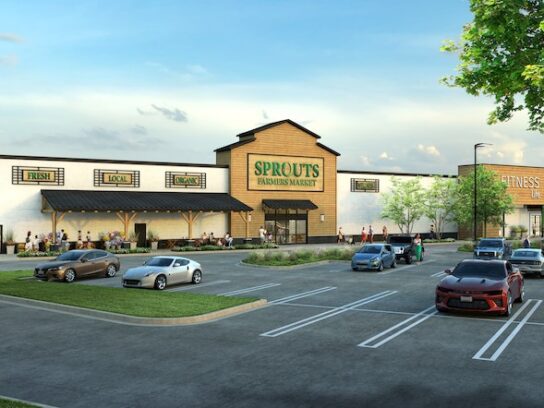 County officials, along with retail real estate company EDENS, came together Thursday to announce Sprouts Farmers Market as the anchor for what will be a newly-renovated shopping plaza at Burtonsville Crossing. 
Currently, the Burtonsville shopping center is without a main storefront, something that will change with the new addition. 
"The community-focused grocer specializing in fresh, organic produce and natural products will occupy the 23,200 square feet of retail space," EDENS announced in a press release Thursday.
The Phoenix-based grocery store, which currently operates roughly 380 stores in 23 states nationwide, is part of a multi-million dollar project aimed at rejuvenating the Burtonsville shopping area, which sat "mostly vacant" the past decade. 
"The community has been pushing for something to be done with the property for a long time so Thursday's announcement [is] good news for the neighborhood and for the region as a whole," said County Executive Marc Elrich in a statement.

Other future improvements in the project include: "renovated facades, expanded sidewalks with outdoor seating and dining opportunities, enhanced landscaping and improved pedestrian and vehicular connectivity," EDENS stated. The company also announced that it hopes the new plaza can be used for "community events, performances and movie nights."
The grand opening for the entire plan is set for "the second half of 2023," according to EDENS.
But while full completion of the project is not expected until over a year from now, Thursday's unveiling still comes as an important step.
"We are excited to partner with Sprouts on bringing a unique grocery experience to Burtonsville," said David Germakian, Managing Director of EDENS. "Today marks a long-awaited phase for the property and an invitation for new retail partners to work with us. We are thankful for the support and input we have received so far and look forward to welcoming back the community."
The shopping center in Burtonsville is just the second notable project EDENS has worked on in the county. The company is also responsible for the Cabin John Village shopping plaza in Potomac, which has been a staple in the community since 1967. 
"I greatly appreciate EDENS' willingness to work with me and my team as we looked for ways to recreate a vibrant shopping experience," said Elrich. "I look forward to working with EDENS as we continue to develop a plan that integrates adjacent county-owned land with EDENS' revitalization efforts."
For more details regarding the project, the official webpage, which includes a site map, can be found here. Further information about Sprouts Farmers Market can be found on their official website here.
The District 14 team is very excited to share that thanks in part to the $10 million in state infrastructure and economic development funds we secured, the Burtonsville Crossing Shopping Center is being redeveloped with @sproutsfm as the anchor tenant! pic.twitter.com/YqfPngXI8U

— Delegate Eric Luedtke (@EricLuedtke) June 30, 2022
A better look at the drawing made by Edens for the Sprouts Farmers Market headed to Burtonsville in 2023. #eastcounty @MontgomeryCoMD pic.twitter.com/Gn1e4dWf3P

— County Exec Marc Elrich (@MontCoExec) June 30, 2022