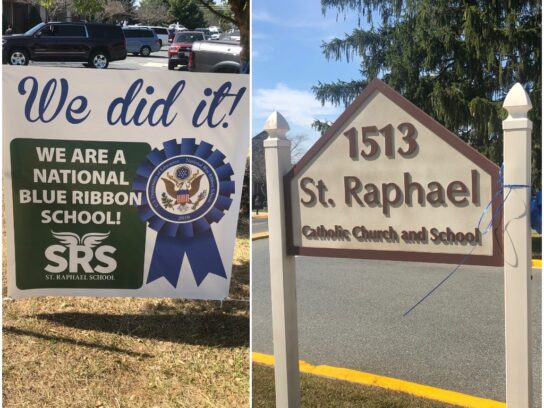 St. Raphael School in Rockville has been chosen as a recipient of the 2019 National Blue Ribbon Schools award from the U.S. Department of Education.
The department announced 362 schools across the country this year as National Blue Ribbon Schools. Fifty of those are 50 non-public schools.
https://www.instagram.com/p/B27MosCBo-N/
St. Raphael's is a fairly new Catholic school that opened in 2006 and educates children in kindergarten through eighth grade. Its first eighth-grade class graduated in 2014. According to statistics provided by the federal government, 42 percent of the student body is 42 percent.
Teri Dwyer, the principal of the school, was named Archdiocese of Washington's Distinguished Principal of the Year in 2018. In 2019, Jerry Nash, a fifth-grade teacher, was a 2019 recipient of the archdiocesan Golden Apple Award.
The school shared the following video of the announcement:
In total, eight schools in Maryland were awarded a Blue Ribbon and St. Raphael is the only school in Montgomery County to receive the award.
Gov. Larry Hogan tweeted congratulations to the eight schools honored:
Congratulations to the 8 MD schools receiving 2019 National Blue Ribbon Awards! Our most important obligation is to the next generation of Marylanders, and we are proud to recognize schools that are doing such an exceptional job.https://t.co/v1kuV8hD80

— Governor Larry Hogan (@GovLarryHogan) September 26, 2019
Dwyer said in a statement: "The Principal of the Year, the NCEA award, and our Golden Apples were all individual accolades […] But this recognition is for our team—students, parents, staff, families, parishioners. We weave Christ into everything we do. This Blue Ribbon is like a gold medal validating a job well done!"
— MyMCMedia staff reporter Deirdre Byrne contributed to this report.