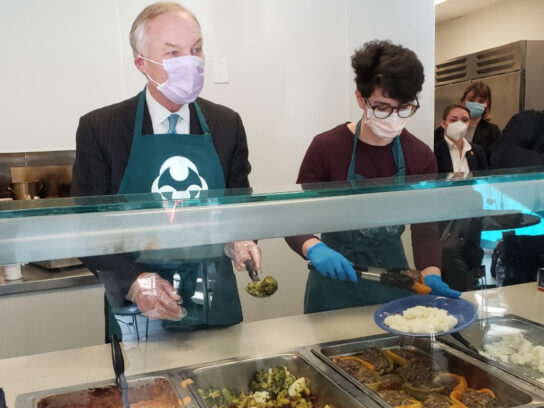 Maryland Comptroller Peter Franchot tasted chocolates from Velatis, toured the AFI Silver Theater and Culture Center and served beef in stuffed peppers and grits at Shepherd's Table Monday in appreciation of the businesses and employees who struggled through pandemic and continue to work hard.
At Shepherd's Table in Silver Spring, Franchot filled the plates of the needy while County Executive Marc Elrich poured iced tea and water to many of the 125 people who stood patiently in line. He asked each person their name, introduced himself merely as Peter and thanked them for coming.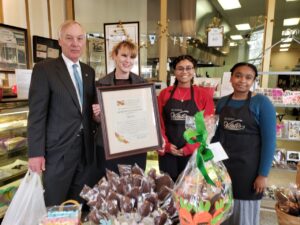 "I wanted to show the citizens of Montgomery County that the government is empathetic and compassionate," Franchot said. "Here the down and out are getting a good meal and compassion."
At Velatis, a chocolate store in Silver Spring that has been in business since 1850, he presented a certificate of recognition to Owner Amy Servais as they discussed how the federal funds helped the store exist through the pandemic.
"They did well as far as COVID. It's a real gem of a small business," Franchot said.
Franchot is running for Governor of Maryland on the Democratic ticket against Rushern Baker III, Jon Baron, Douglas Gansler, Ralph Jaffee, Ashwani Jain, John King, Wes Moore, Tom Perez and Jerome Segal.